MH: Hello! Thanks for dropping in. What I like local bands for (except for music, of course), is for being friendly and responsive. How do you think, when this moment comes when we will have to go through all 9 circles of managers' hell and ignorance in order to interview you once again? :)
Alcyona: Hi MetalHeads! Thanks for the invitation for an interview! The first question already shows a good sense of humour (can't even imagine what follows!). But come what may!
MH: And now tell us what's that mysterious creature called Landscape Metal?
Alcyona: Landscape – is the word most suitable for our music. We strive for making it more colourful, bright and eurhythmic. We want to bring smth new into Metal music, but it doesn't mean that we play some kind of 'romantic music that makes people forget everything and go dancing in a field'. We try to combine lyrics and drive.
MH: In general many musicians find it hard to define themselves within a certain genre. Like we're playing whatever we like and that's it. But instead of diving too deep into all the influences, wed better invent a new genre. Can you say that you've invented smth dramatically new in Metal music?
Alcyona: Not really.
MH: Why calling cherry merry?
Alcyona: Most people associate a new band and its sound with smth they used to listen. That's why a question like what's that for Landscape Metal you've invented? Probably it was meant to be noticed! But no, absolutely not. Everyone, who knows the musicians personally will understand such a choice. And let everyone call what one hears the way one does - Sympho/Power/Heavy/Hard/Pop/Reggy, etc. We put emotions into music and lyrics, try to breathe life into songs. You'd better listen to our songs, they must speak louder.
MH: The band was formed in 2012 and one can say, that since then the work on the debut album of Alcyona has begun. Pretty responsible. Tell us about the way you've searched for your own sound.
Alcyona: We've been spending many evenings together playing and analyzing songs, jammed and rehearsed. Everything starts with an idea, story you'd like to tell. Afterwards we've got an image inside our heads, which we could (hopefully) express with our music. Thus we define the scale of a song, its structure and arrangements.
MH: One can say that each next album is a bigger challenge than the previous one, since for the debut album a band has an 'unlimited' amount of time, while afterwards be so kind as to produce a new release at least once every three years… Have you thought of this in terms of your lofty agenda?
Alcyona: Exactly! Further we've got less time for stretch of imagination. After the debut 'Trailblazer' we'll start working on new material combining it with live shows. We've already got some sketches for the new songs. So the band doesn't sit still and won't make fans wait for another 5 years for the next album.
MH: Talking about future. If you had an opportunity to listen to your future yet not written album, would you do so?
Alcyona: No, we wouldn't. Because knowing beforehand what future brings isn't interesting. Present defines future. Or songs are our emotions and experience. It's life stages that are expressed with music. Thus it's better to play now the way we do, feel joy and develop ourselves.

MH: November last year you've signed with the German label Pride & Joy Music. First of all congrats, secondly why label and why German?
Alcyona: Thanks! A band isn't 5 people, it's a huge mechanism consisting of many people performing their own tasks. In order to make everything work right, every person should do one's job. Nowadays 80% of labels don't work right. Basically they do nothing. But we were lucky, we've signed with the one that really works. It's good to have people for the promotion abroad – that's Pride & Joy Music. In Belarus it's our friends and band's manager Darya Shelukho [Дарья Шелухо]. Why German? That's the place where heavy metal is based. Plus the whole well developed industry of heavy music exists there. And since we've chosen English as the main language for our songs, we need partners from abroad.
MH: In general you've got an interesting geography – Belarus for recording, Georgia for mixing and mastering, Germany for release. How come?
Alcyona: We didn't really initially plan it like this.When we were searching for the person who makes mixing and mastering for us (thanks Max Forneus!) we really loved his demo version. We've sent our recordings to America and Finland, but namely Max was a match. He found the sound we were looking for! Thus we can surely say that the album sounds exactly the way it was planned to.
MH: And here we are talking about 'Trailblazer'. Tell us a bit more: concept, influences, expectations and reality…?
Alcyona: Trailblazer means pioneer that beats out a road. It's about the fact that it's our debut album. The art cover depicts a warrior standing on watches. He's a wanderer and time messenger. He's very wise and experienced character, which guides you through ancient legends of antique forest (Enchantment); dark and fiery times (The Kingdom of Might, Sacred fire); go the path of dreams (DreamRoad); see the power of a human spirit (Osceola); will live one life for 4 minutes (Сircle of life); will hear voices from the past (Memories in the vessel); will find the forsaken valley (The Lost Valley); will dance at the show of street musicians (The Kings of Show), and will come to the evergreen spring full of love and harmony after being transformed (Моя Весна [My Spring]). If our songs will help someone to go through a certain life period and will be a support, or help someone to feel joy, we'll see it as our mission being completed.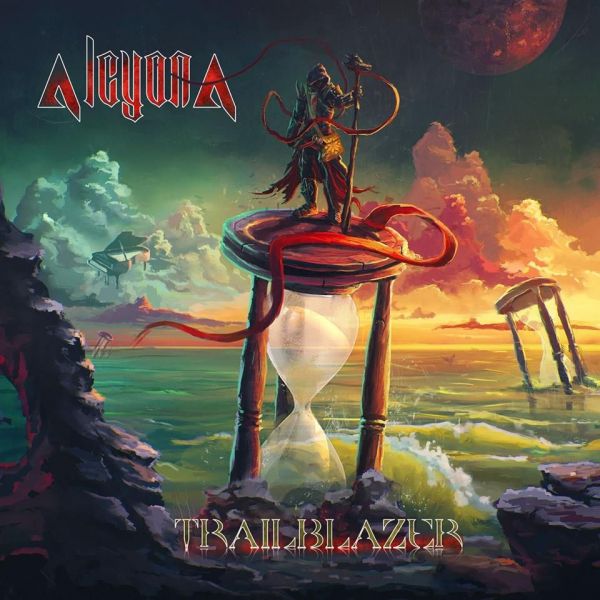 MH: Alcyona is like a supernova on local stage. But taking into account your international start, I assume that instead of 'training' at home stage you're aiming at stepping outside at once?
Alcyona: First of all we'd like to 'train' at home stage. In order to tour abroad one has to be very confident, but for achieving this we need at least one more release and more experience. We'll try to take part in shows and festivals held in the neighbor countries, but we need to acquire more experience and material for touring abroad.
MH: Still good luck and we're looking forward to the presentation of 'Trailblazer'!
Alcyona: Thanks a lot MetalHeads! We were delighted answering your questiions! Will be glad to see you at the presentation of 'Trailblazer'!


Interviewed/translated: Gella Inspired
The pictures are provided by the band