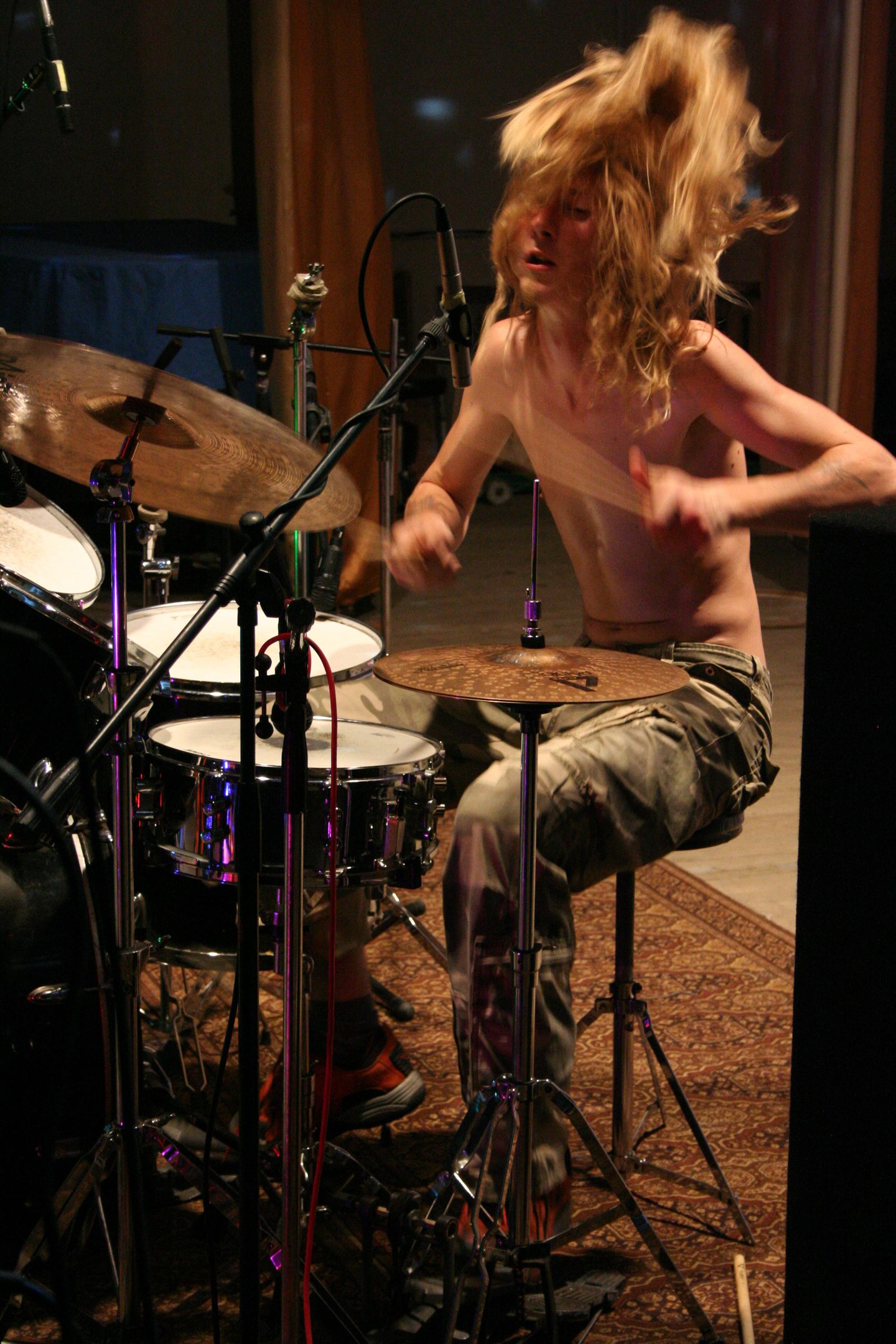 Yura SheFF Shevkov (New Level) (Belarus)
1. Why drums? Falling back on how it all started for me, I can say that we gathered with friends just to play punk rock, so no one actually bothered choosing one's instruments. Everything happened so naturally. One guy already had a guitar, the second one has just bought a bass guitar, well, and I've always been interested in drums. And playing was easy and I did pretty good. With time I got more involved and have been trying all sorts of new tricks, watched the other drummers play, and in general raised my level. By the way, I've never tried to play some other instrument – wasn't interested. So, maybe I didn't choose drums, but they did? …
2. Honestly, I've never felt being in the shadow during performances. And since the drum set is put above the stage level, there's a better view. During the show I usually feel fine, send a lot of energy to people, and I'm not confused by the backs of my dudes that I see in front of me.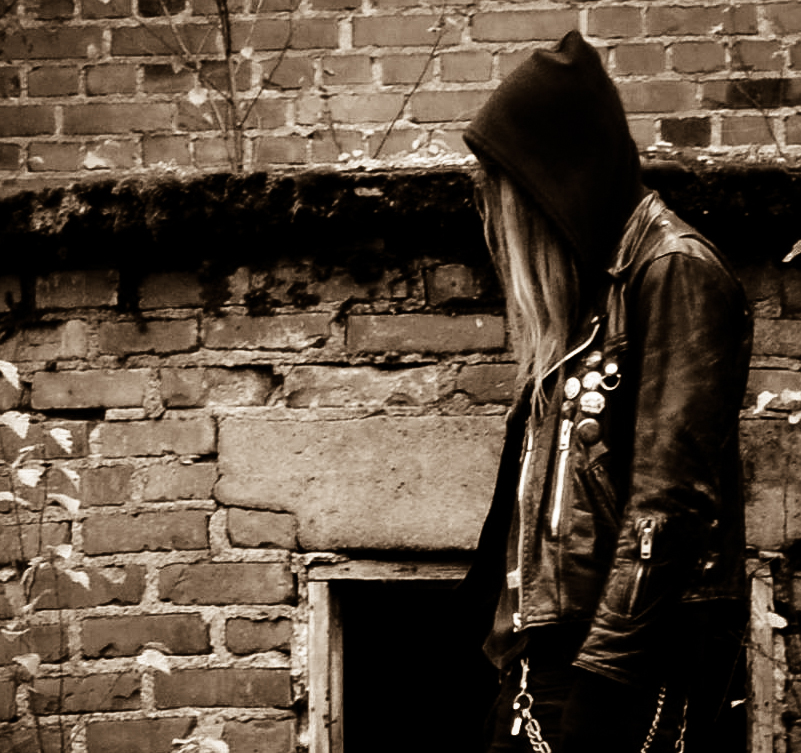 Eld (Funeral Procession & Hellspirit) (Finland):
1. Why have I chosen exactly the drums? Because no other thing in this world is as cool as playing drums. I began playing drums at the age of 10. Before that it had been regular visits into music shops to look at drums and get new drum catalogs (already had bought myself drum sticks when I was 8 years old). I took drum lessons for two years at the age of 10, and at the year 1998 got my own drums. I started to upgrade my drum gear always when needed to and had some money. Still playing with the same kit and been recording all possible demos & album tracks with the same gear since 2007. Nowadays I play in 3 active bands.
2. The "plusses" - definitely the benefit of being safe behind the drums. The "minuses" - shitloads of gear to carry to the gigs!
Anton Shneep (Serdce, Irdorath, OliΔ, Anton Shnip (One Man Band)) (Belarus)
1. Drums got the nod... when I was 12 or 13, don't remember. I saw the pedal for the bass drum for real for the first time! it broke my brain and captivated me. And I realized that dealing with such devices is cool! And useful.
2. Pros and cons. Pro is the fact that you are always in the limelight in the midst of the action on stage and behind it, because drummers and drums are cool! And everyone feels and knows it. The con is that you are always in the limelight. Even among musicians you work with. You're not just in the shadows - you're in the spotlight! The thing is, as I have already said, that the drummers and the drums are cool! And people know and feel it. Smth. like this, a drummer is always in the centre...
Verin (Мortuorial Еclipse) (Argentina)
1 I chose the drums at age of 9 because my cousin was a drummer, and I liked to watch him play. Then my aunt gave me a drumkit to start. Always seemed to me an instrument in which you can leave everything.
2 I'm not competitive, then not bother myself being in the shadow of others on stage, I think you can learn a lot when you look at someone who is better than you, I guess that would be a plus. Another good thing is that you can motivate others to dare to play the instrument if you're good at what you do, and I say not only to be good at playing the instrument, also be humble and good person, both above and below the stage. Then I think no minuses for me in this point.
Terr (Vox Mortuis, Victim Path, Massenhinrichtung) (Belarus)
1. My drumming began when I sat down for the sake of interest at them in the breaks during rehearsals, when I played bass and guitar in different bands. Then I went to drum in the newly founded band, and gradually drums began to displace other instruments.
2. The drummer is always hidden in the back of the stage behind his drums, and this is both a plus and a minus. The advantage is that in this position one feels less anxiety during the performance, but on the other hand the energy of the audience isn't felt that clearly as well.
Lev Kurgansky (Fleshgore, Ezophagothomia,Barrabeck,Sermon of Mockery,Shizophrenic Оbscurism, Detonator, INFIDELITY(Minsk) POSTHUMOUS BLASPHEMER(Minsk)) (Ukraine)
1. Since childhood I realized that drums were the instrument I wanted to play. And yes, in fact in extreme genres pretty big responsibility is on drummer. That's why one says that drummer is the heart of an orchestra.
2. I'm not tall and thus can't see even audience behind the drums while performing, not to mention the shadows of the guys on stage!
Dmitry Barmalej (Exegutor) (Belarus)
1 Honestly I don't consider myself to be an outstanding drummer, because I've never been and probably will never become a professional in this sphere. But being pretty young I once realized the need for creative self-realization and was infected with heavy music. Making music turned into the meaning of life. Over the years nothing has changed, I'm still the same kid of fourteen, that brought drums and amps into his apartment, and terrorizing parents and neighbors day and night! For me it's not that important what instrument to play! The main thing is WHAT and with WHOM to play!
2. I think that the drummer remains in the shadow only if he's a drum machine! Modern bands in the first place, are estimated by the degree of coolness of a rhythm section, so modern drummer must find it hard to stay in the shade of guitarists! And the fact that the names of the top drummers are known by everyone, unlike the names of keyboard players for example, only confirms this fact!
Alexey Inc Kovalev (Exhumation, Vottovaara, Svartby (Karl's Egg Farm 2013 (EP)) (Russia)
1. Many years ago, still in high school, I wanted to form my own metal band. At that time it was very simple: you make up a name, and find like-minded people. Which instrument will be played by whom and whether one is able to do it at all is decided later; so when the name has been chosen and the needed number of colleagues had been gathered, it became clear that the only vacant place was the one of a drummer. But I imagined myself in the role of a singer or lead guitarist back then, but decided at the start of a thorny band's path not to set up a despotic regime, and agreed to the role of the drummer in my own band. Moreover it seemed pretty easy to me, you just have to sit and strum a tune. The fact that this opinion was false I realized later, when I tried to play something with two toms, but that's different story.
2. The main disadvantage - is almost total absence of photo/video records of the event. A drummer finds oneself pretty rarely within photographer's/operator's scope, especially at the junction of the 90ths, but still the situation hasn't really changed a lot. Another minus is a bulky equipment. One has to carry to the gig hardware, stands, pedals and the small one. And the teammates aren't always willing to help in the matter of transportation... That's all about minuses to my mind. On the positive side: drummer is the heart of a band, vocalist may be unremarkable, guitarist may screw up - very few people in the concert frenzy notice it, but if a drummer does – it affects everyone, so a certain sense of responsibility for the gig doesn't allow to relax. The opportunity to play without electricity is another plus. And good drummers aren't many, so proposals to "play" are numerous. But I don't like dissipating my energies for many things and play exclusively what I like.
Vicky Fates (Akute) (Belarus)
1. I haven't had an actual choice. I didn't choose drums, but was chosen by them. I was impressed so much, that couldn't think of any other musical instrument. I just started playing without any far going plans for the future, it just went that way and still doesn't let me go.
2. Sure it's psychologically easier to sit in the back of the stage behind toms and hats, but not directly in front of the audience. A real paradise for introverts. But on the other hand the drummer practically has no right for mistake at all, since the whole band follows him or her. And in fact, I can't stay in the shadow, since the female drummer will be noticed and will payed attention to all the same.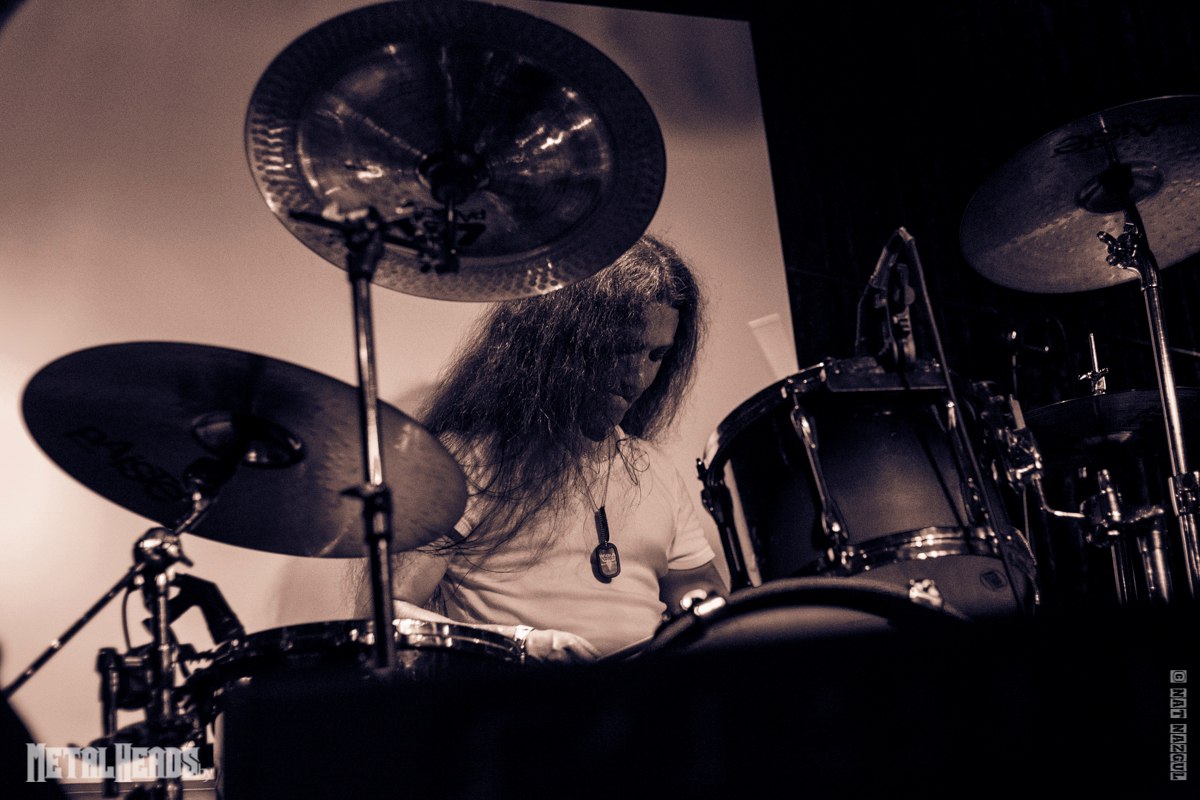 Michael Vasylkov (Apologeth) (Belarus - Poland)
1. Whythe choice fell onthe drums. According to thebestmelodramatictraditions, thefateful rolein the formationof my choicehas been played by a woman.Herperformance on thedrum kit, I've seenon TVas a child,was brief, butquite spectacular.The woman's nameat that time was known aroundthe whole world.It was...Margaret Thatcher,the British Prime Minister.Andthe event itself,as I found outmuch later,took placeduring hervisit tothe famousstudioAbbey Road.So I'm the follower of"BritishSchool".
2. The "Pros" and "cons" of being in the shadow of the other band members (on stage). When you're surrounded by like-minded people, there are no pros and cons, there is no light and shade. There's only the Absolute of co-creation, where all the members of the band, without an exception directly (compositional or technical skills...) or indirectly (features of character, outlook...) contribute to creation of the songs. Accordingly on stage each is on one's place; one doesn't go out of sight, and doesn't overshadow the other, but becomes a part of the musical-visual canvas.
Мax Bizo Bely (Nightside Glance) (Belarus)
1. Why drums? At early age when I was 5-6 years old I was lucky enough to hear my father Bely San Sanych playing guitar his favorite hits of Judas priest, Deep Purple, Uriah Heep, etc. And my father, despite the fact that he was a policeman, wasn't a typical "servants of the law" and had a hobby collecting Heavy Metal albums, plus still managed to make good electric guitars, which we had around twenty at that time in the house. So at that moment I terribly wanted to accompany him on drums. Dad noticed my desire to play, took out from the cabinet drum sticks and gave them to me with the words: "Play Max!!!" Then I hammered on the furniture with those sticks with and without music. Some time later and I was lucky enough to get to the rehearsal of Evthanazia band in 1994, my father introduced me, he supported the band and helped with the rehearsal room in the police department of Rechitsa. It was fun time. That's where I first played the real drum kit, with the support of guys and Churanov Yura "Eger" in particular I started playing drums. I was also playing bass guitar, but I have always thought that drums were the main instrument in metal music and that guitars can't give such a drive which drums do.
2. I think that the band is like a body which should have all the organs working. Drums are the heart of the band! Everything starts there and thanks to a good heartbeat the body is working 100%. Many metal bands' drummers create an atmosphere that can't be created with the help of other instruments. As for being in the shadow or cons, I think the drums are much louder than other instruments, but if because of smoke, light and stage size the drummer can't be seen, it's the fault of the organizers and technicians, who are concerned more about the overall performance, than about the whole entire band. I like to play metal on stage, I feel a great responsibility for everything that happens in the room (because everything starts with me), it's a great pleasure to hear live sound and seeing furious crowd in front of the stage.
P.S. I want to congratulate all the drummers on 11.11.2016 and to wish them success, good hardware and positive mood!!!
Igor Sataroth Botjko (Vein of hate (Belarus), Vanguard (Czech Republic), Incalm (Czech Republic), Iodguara (Norway/guest musician)) (Czech Republic - Belarus)
1. I think the majority of 14-15 year old guys would like to play guitar. For some reason I picked up bass guitar. Gathered with peers and started learning and trying to play smth. the way we could. But here's the thing: to find a drummer turned into a hard task. And then I remembered that while listening to my favorite metal band, I payed more attention to double bass drum and machine-gun drums. They attracted me. On some of our "rehearsal" I just sit down at the drums and made noise... but it was enough and the bandmates said it was the best that we had, and since then I've been seriously into playing percussion instruments. I'm still engaged into this thankless task, and get a lot of satisfaction from the process.
2. So. "Advantages" ... Well, imagine the drummer has spent the last three days with maximum booze and a minimum of sleep, and here's the gig, and he obviously is not going to look that fresh. Well, it's not a problem!! Comrades in the band from the "front-line" will always cover you up!;) Literally. The next "plus" refers more to the young drummers. So-called "stage fright" is minimal. Since in case of dissatisfaction of the crowd consisting of 3 cripples and 2 sots, tons of shame will fall on the vocalist and guitarists, but not the drummer. The third "plus" - you always have your own monitor (or even two!) And a bunch of microphones, so you can interact with the sound engineer. Still there is another "plus", which I personally practiced many times: one can throw a drum stick at the vocalists' back when he screws up a lot. But there are "cons", and the main of them is photographers!!! Well, seriously, have you looked at regular photo reports after a show? There are almost always absent drummers! In the best case they are present on 1-2 photos with a distorted face. "Minus" number two, is that sometimes people don't recognize you when you come down from the stage.
Kondratuk Forneus Vadim (Exist:M, ex-Infestum) (Belarus)
1. The choice fell on drums and drums only. Just while listening to music I paid attention to percussion instruments. I liked their sound, rhythm, the way they looked. It's the know-how. Then I tried drumming to my favorite songs... I did well, and the story went on. The first self-made drums, the first real ones, the first rehearsal, etc.
2. Advantages of being in the "shadow" of musicians? There are none. Only the humorous ones come to my mind. Like one can pull faces or screw up (though if one screws up it still will be heard, but not seen). For those who are shy, staying in the "shadow" is undoubtedly a plus. But there are no advantages for me. But it has never been a big deal for me, since being in the "shadow" is compensated by the sound volume. In this vein, I would rather be more worried about bass players who are seen, but often not heard at all, just creating the background.
But there are certainly disadvantages. Usually, no one knows how the drummer looks, a photographer often doesn't manage to take a picture of a drummer and he's got few pictures in the end. Half of them are with a hat instead of head. There's less communication with the audience (energy exchange). Sometimes you find yourself sitting high, don't know where, in the background... there's a feeling that you aren't at the show, but just play in a room with a metronome. You look down and see – there's a party. Envious. But you console yourself with the fact that this party is possible mostly thanks to you.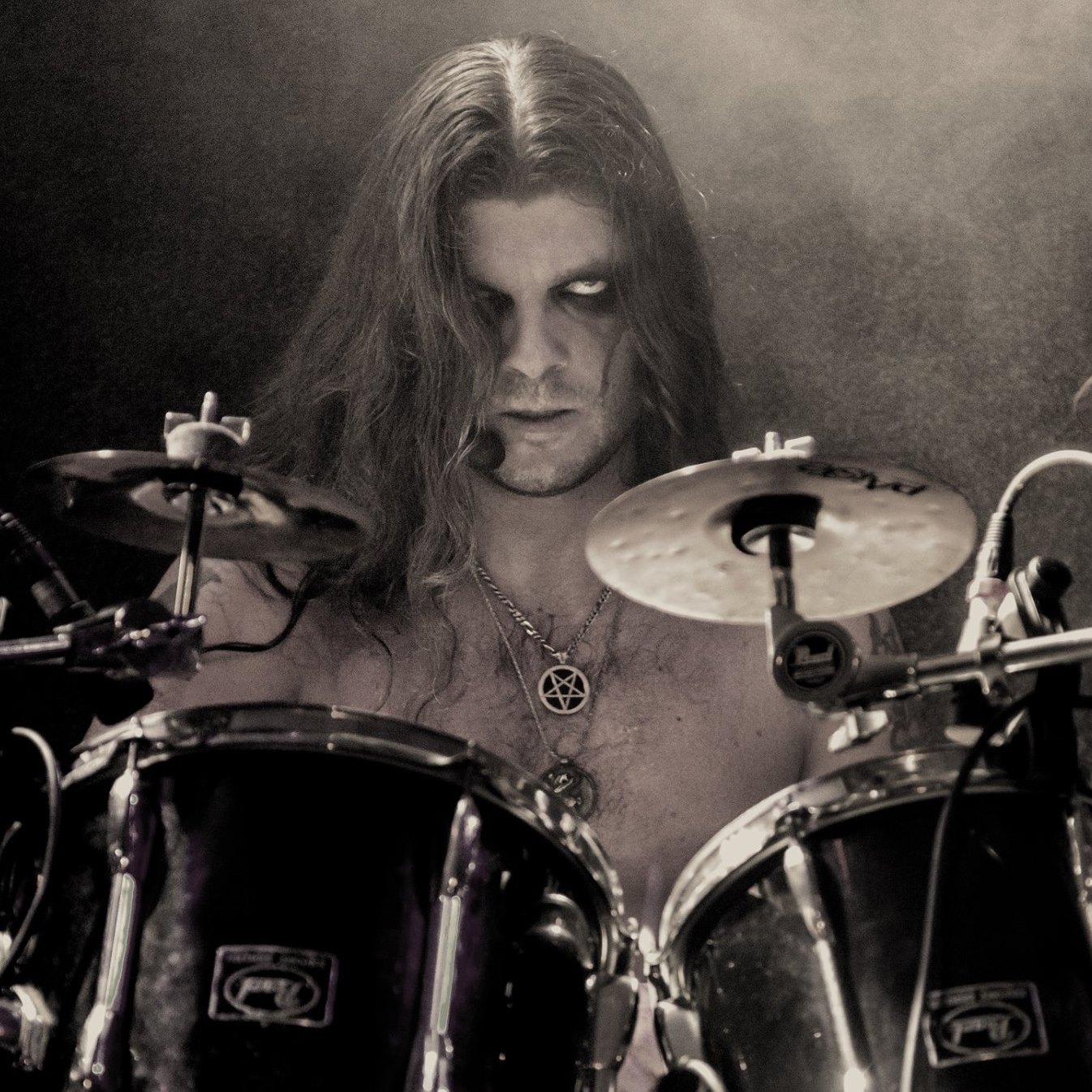 Balgradon Xul (Infinity) (the Netherlands):
1: As a 11-year old kid, when I started playing the drums I was always fascinated with drum kits, especially huge drum kits with double bass and a lot of toms and cymbals, like for example Lars Ulrich's kit from the 'And Justice for All' tour.. (the white Tama).
In that time I listened a lot to Metallica, Slayer, Sepultura and learned playing the drums while tuning up the volume of my stereo. At the age of 14 I started playing the double bass and playing blast beats. In that time I experienced a black metal concert for the first time of Marduk and Enslaved which made a huge impression!
2: Well, besides being the drummer I'm also the lead vocalist, bass player and song writer of Infinity. On stage I wear a head set behind my kit and both guitarists stand beside the drum kit, instead of in front of it (we don't have a bass player on stage). I am still in the back of the stage, but I'm not really in the shadows  The minuses are that it's a bit harder for photographers to take a good shot of the drummer, because they are in the back of the stage, hidden behind toms and cymbals. Sometimes it's also a minus that I always have to be in a very good shape / condition to play high speed blast beats while singing, so I don't drink alcohol before I hit the stage, but it's all worth it in the end. Once I'm on stage performing our live rituals I'm in a and sort of demonic rage / trance and it gives me a lot of satisfaction to release the energy and receive it back from the audience.
"Reached out":
Nat Nazgul
Photos are provided by the drummers.