MH: Why this name?Stanislav:
As it's stated in our official group - the name is inspired by the line of Pink Floyd's song "On the Turning Away" ("A Momentary Lapse of Reason" album – author's remark):
Unaware how the ranks have grownDriven on by a heart of stone.
And the word The Ranks has several meanings.
MH: At least three: an ordinary participant in something; weight; ordinary people.Stanislav:
Yes, right. We couldn't pick up the right name for a long time. Since the band was already formed, and the first concert was planned, but the name never came to mind. At the last moment we stopped on The Ranks. Striving to perform such a great music we decided to remain "ordinary people".
MH: Did you have other variants?Stanislav:
We had plenty but they had nothing to do with Pink Floyd, thus weren't valuable.
Andrei:
When I joined the band I didn't really like the name of the band, and I still don't.
(everyone laughs)
When you search The Ranks on YouTube, you could find some Africans with guns or smth. like this. Sometimes I think that we should change the name for the more appropriate one.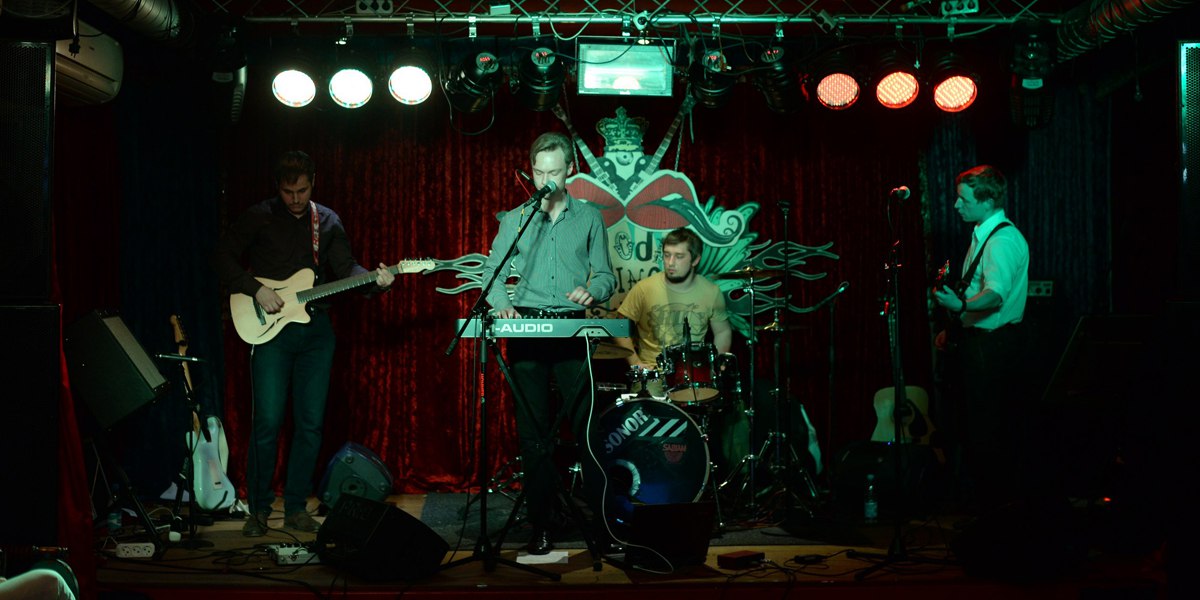 MH: Well, I can't but agree. I don't see connection between The Ranks and "Pink Floyd". And a tribute band needs it. Let's look at "Brit Floyd" – their name directly points at the music they play.
Stanislav:
Yes, sure. But we took into account the fact that we were going to play not the songs of Pink Floyd only. We looked at it from the point of perspective that one day we'd like to play some other kind of music also. So The Ranks – is pretty convenient.


MH: Let you have it upon your conscience.
(everyone laughs)
When was the band formed and who was on board?
Stanislav:
The idea of the band belongs to our former solo-guitarist Andrei Khasenevich, which left the band in the end of 2016. I supported the idea right away, since Pink Floyd was one of my favourite band. Then the drummer Alexander Griboyedov-Belevich joined the band and still plays with us. We've had a bass player, but he lasted only for one show with us. And after Andrei joined us and for some reason he took the role of a bass player too
(everyone laughs)
. We've been a four piece for long.


MH: Excuse me, but how can Pink Floyd exist without keyboards?
Stanislav:
Keyboards were on me plus I managed to sing somehow too (everyone laughs). It wasn't easy. But one should take into account that during live shows Rick Wright used many keyboards and supporting keyboards' players, as well as percussions, guitars, etc. by the way. First we chose only those songs we could play live with the current lineup without losing quality. It was extremely important for us.


MH: Were these early Pink Floyd songs?
Stanislav:
Of course not. We focused on the mature material of the band.

Andrei:
We discussed the albums and analyzed each song from the point of view of performing live according to our technical capabilities.

Stanislav:
If, for example, originally there are two guitars, and we have one, then we considered the option of a suitable arrangement, but not to the detriment of the song. We wanted to play the songs of great Brits as close as possible to the original.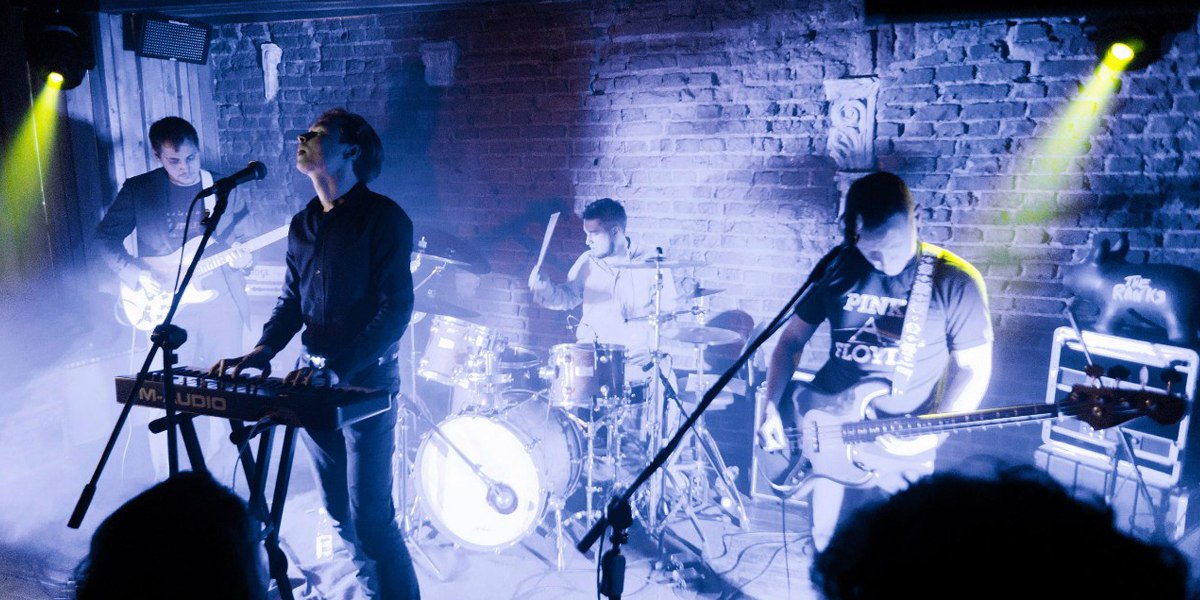 MH: When was the first concert?
Stanislav: May 23, 2014.
From this date we are officially counting our history.
Before that we gathered and learned material, took some time.


MH: How did you have the audacity to start playing Pink Floyd anyway?
Andrei: Everything began with Stas.
It's all him!
He's the one who graduated from the music academy and is studying at the magistracy!
(everyone laughs) And he is by nature a terrible perfectionist.
And we are as an addition.
As for the technical side, Floyd's music is not as complicated as it might seem: there are no complicated technical tricks and guitar tricks.

Stanislav: Gilmore does not have random notes.
MH: There's depth.
Stanislav: The complexity of Pink Floyd's music is not in individual parts, but in combination, in integrity and consistency.

MH: For me, this is a universal infinity and metaphysical emotion; it's over-music that lies beyond the usual understanding.
Stanislav: All the musical canvas of Pink Floyd is alive, it's breathing.
MH: We can talk about this for a long time, but let's go back to the topic. When did other members join the band?
Andrei: Our second guitarist is Artem Raisky – a very modest guy. And then it turned out that he plays the keyboards also (everyone laughs). Then…
MH: Girls!

Stanislav: Yes, girls.
We were long in search of a permanent backing female vocalist, and we had to hire session musicians.
There is always one problem with them: they want to come to a concert in a beautiful dress, but do nothing at all.
MH: Why should they if they're beautiful?!
(everyone laughs)
Stanislav: Then our Katya appeared!
[Ekaterina Kaznadei - backing vocals, keyboards, tambourine – author's remark] My groupmate and one more person with musical background.
And Ira is our saxophonist [Irina Lepesh].
She graduated from "Glinka" as a jazz and variety saxophonist.
Thus, today there are 7 people in our band.

Andrei: And Ira is also a very responsible person: despite the fact that her parts are only in 3 songs we perform, she regularly attends all the rehearsals, regardless of the program.
MH: For how long have you been in this lineup?
Stanislav: Approximately from the end of last year.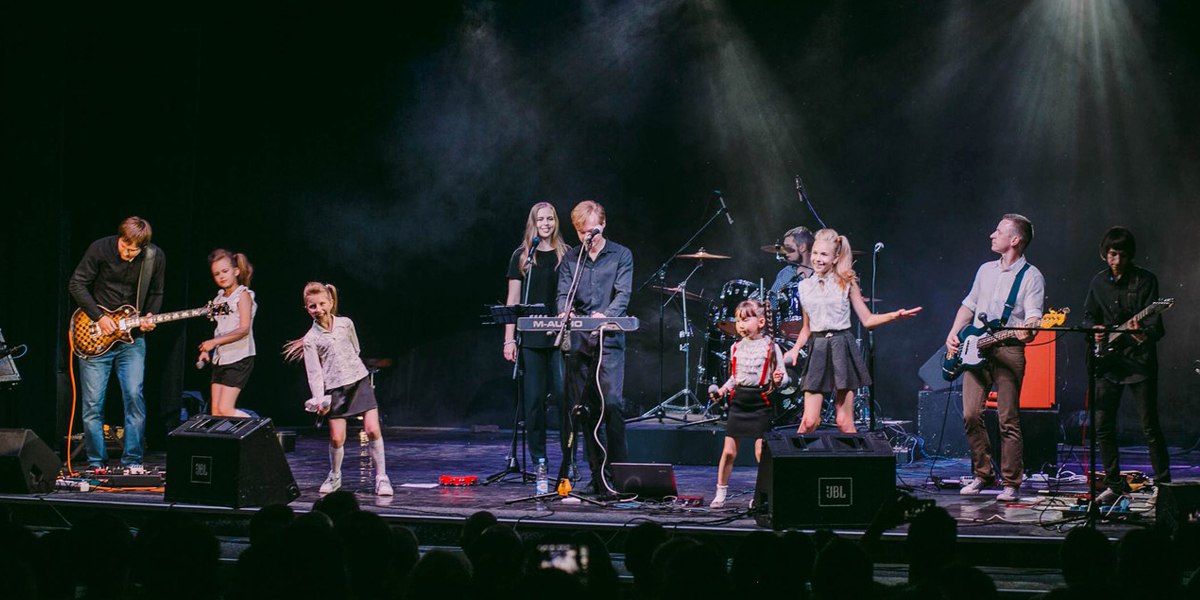 MH: Isn't the grandeur of music lost in the club format?
Stanislav:
It all depends on the sound engineer. In fact, everything is real: the sound can be fixed and it will sound as it should.


MH: Let's talk about the feedback and reaction of the audience.
Andrew:
There were no negative reviews throughout the band's history.

Stanislav:
We try to give everything we can. We do not play only for the sake of playing, just like some other cover bands. And we do not claim for making our performance genius - we try to do our best and to show everything that we are capable of.

Andrei:
When you manage to dissolve in music and feel the audience ... it's precious. It's worth living for. But this requires a lot of effort. As one says, "the stars should be lined up in the sky"...


MH: Well, so should the neurons in one's brain.
(everyone laughs)

Andrew:
In fact, even Pink Floyd had bad performances.


MH: Let's talk about your posters. Who makes them?
Andrei:
I do, but I've got no special skills for that.

MH: I would say that they look not bad!
Andrew:
I use some elements of fan art, photoshop. When there is copyright involved, I put the reference to the source. In our case the poster is very important - it's like an element of the upcoming show. Any concert begins with a poster. By the way, our Katya showed a talent for drawing. The last poster is her work. And many thanks to her for that!
MH: Moreover I've noticed you initially on poster. I can even say when! It was the day before the performance of Brit Floyd - November 3. But the circumstances did not let me get to know you back then.
Andrei:
So e've spent so much time on this poster not in vain!
(everyone laughs)

Stanislav:
Unfortunately, at the moment we don't have the final version of the logo. Many of the fonts on the Internet do not suit me. I think there must be something special, man-made. Now with Katya we are now engaged in the creation of the concept.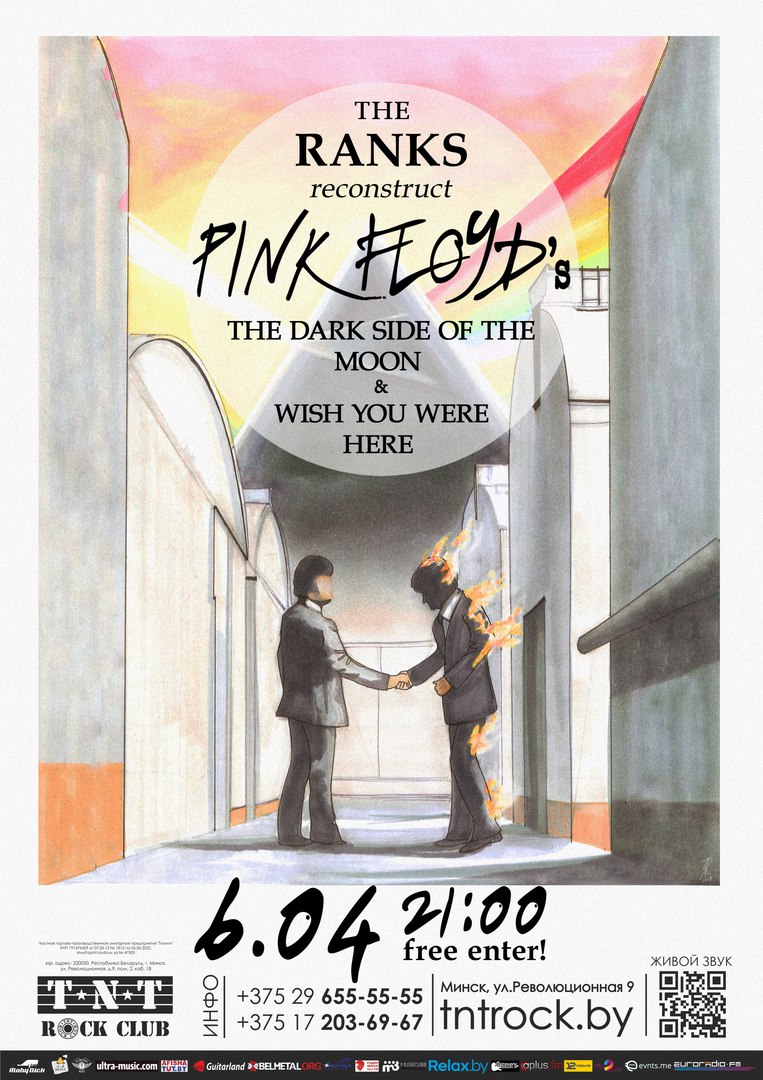 MH: And when is the next show planned?
Stanislav:
The next performance takes place on April 6 at TNT ROCK CLUB. It's going to be a complete reconstruction of two albums of Pink Floyd - "The Dark Side of the Moon" (1973) and "Wish you were here" (1975). As for performers, this is a serious challenge for us. We have been preparing this program for a very long time.

Andrei:
Initially we were going to perform on March 24, the day of the release of "The Dark Side of the Moon", but we would not be able to prepare due to the circumstances.


MH: You're the ones to blame!
(everyone laughs)
You said that probably, The Ranks will perform not only the music of Pink Floyd. What could it be?
Andrew:
We've already tried to play some songs of The Rolling Stones and The Doors, but then we realized that it was "not our cup of tea."

Stanislav:
Probably it will be prog-rock of the 70th – Yes, King Crimson, Genesis…


MH: Unlike the tracks of Pink Floyd such music, unfortunately, will be much less in demand.
Andrei:
In any case, it will not happen soon. If we talk about plans for the future, we would eagerly play some shows in the regional centers of Belarus. In the meantime we are waiting for everyone in TNT on April 6.

Stanislav:
Come to see us. We will be happy to share with the listeners the great music of Pink Floyd!
Photos are provided by the band

Сохранить