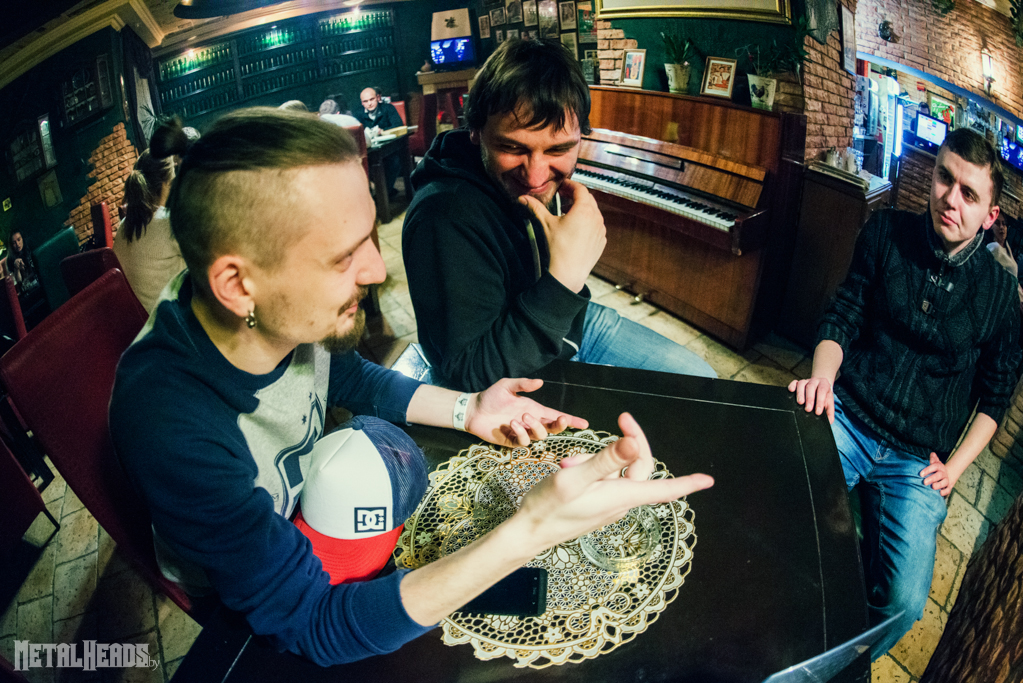 Who are IVORYGOD?
Zhenya: My name is Zhenya (drums) and the guy next to me is Sam (vocals), He has recently joined us. The other guys drink beer at the next table. From important events of that dashing company: we've released an album on March 2015 but then we had a stagnation till September…
Sam: …when I joined the band. Now we've been active for 4 months and we'll play the second show in Minsk and are going to Kiev soon…


..and in Bobruysk in March.
Sam: Yes, we will. We were invited to take part in the fest Bobrock [Боброк] and we've eagerly agreed.


In such case you'll face an empty house.
Sam: We're ready for it if such thing happens. We're hard to embarrass! We had a gig in Svetlogorsk wihout any promotion and played the last, so there were only sound operators. We've rocked fine, so you can't scare us!


Did you play the whole set?
Sam: Yes because metal must be played to the end despite the number of people in front of yoou. We counted and got a funny statistics. There were 0 active people on our set in Svetlogorsk; when we warmed up Evthanazia in Rechitsa, there were 3 of them. Last time in Minsk we had 6 people partying during our show. This time we count on 12 people in Doodah King, in Kiev on 24, while in Bobruysk there probably will be 30-40.


About Gomel. We have an opinion that this city looses the rank of metal capital and degradates. Gods Tower, for instance, have already partially moved to Minsk.
Sam: Here's my opinion: Gomel is not a metal capital for long. Frankly speaking I can't remember any heavy concert for the last year, which had been attended at least by 150 people (though I may be poorly informed). I think that the generation changed and there are no successors, so to achieve a good attendance of local gigs is problematic.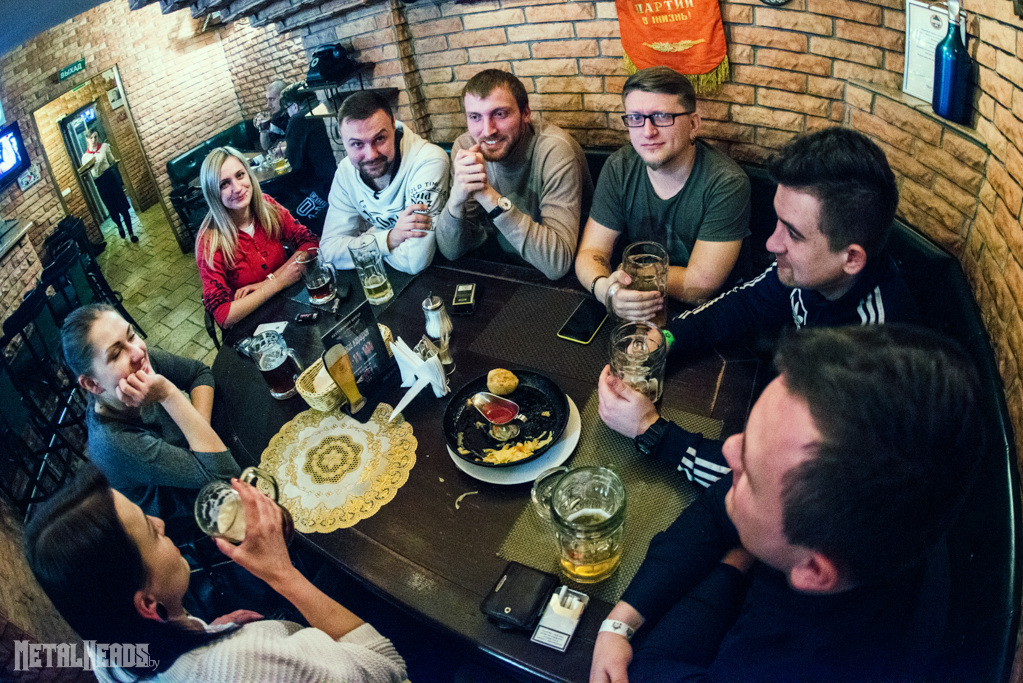 You play thrash, groove, while modern youth likes nu, alternative and other light stuff. What's your attitude towards it?
Zhenya: It's clear that this genre isn't popular, but that's where we belong and so be it. We'll rock as long as we can.


In Belarus one can count thrash-bands on fingers of one arm. It's hard to name those who could warm-up thrash titans...

Zhenya: Well, Dittohead are good. Minsk guys Heavy Artillery played pretty fine metal. There's a band from Gomel called Meat Head, playing cool thrash metal with the elements of heavy. There are high-class neighbours like Phrenetix from Lithuania – great old-school thrash with female vocals. Kreator and Sodom in Minsk were warmed-up by Moscow band PokerFace – praiseworthy band as well. What concerns the style of IVORYGOD, it's closer to Pantera and Lamb of God, than to Slayer… I think that only adults that realized what the notion of life means play thrash.
Sam: I'm pleased by Belarussian stage and the fact that there are lots of stoner, sludge, post-metal - very interesting music and of a good quality. I think that thrash won't disappear. Now it has hard times but there are always fans that would like to attend a gig of thrash bands. Sure it's far from 500 people in Re:Public, but still.


The last month has been marked by releases of 3 bands from the 'Big Four'. Do you think their music is still urgent? To my mind nowadays only Slayer plays smth. like thrash, while others do smth. different.

Zhenya: Our guitar player wouldn't agree about Anthrax. I listened to Slayer and found nothing new, Megadeth was a miss, but Anthrax caught. I think they'll find their fans. That's the point: if you can't play modern music but found your fans - lucky you are.


Are you waiting for a relese of the last member of 'Big Four'?
Zhenya: We'll see what they will do with the reedition of 'Kill'em All' and 'Ride the Lightning'.


I hope you don't write riffs down on your smartphone and loose them afterwards like Kirk Hammett does?
Sam: No, we are more professional here :) The main part of our material is created my our guitar player Mitya [Митя]. He's our spiritual leader and inspirer. He composes everything at home, then comes and shows how it must be done: where to beat, when to sing.


And why does he drink beer at the next table but not takes part in the interview?
Zhenya: He just can't shut up!


With whom from the old Gomel crowd you still keep in touch?
Zhenya: Dmitriy Ovchinnikov [Дмитрий Овчинников] often helps us to record. We often meet ТТ'34 on one repetition base, joke a lot: now we come to rehearsal without instruments, now they. A kind of light team building. We're good friends with the post-hardcore band Dive to Survive, that's all about active bands. In general everyone just quit because: 'Hell no one attends our shows and you have to pay for it'. Music-making is not a cheap thing, you want some profit but there are only sound operators on your show.


Does it happen when Mitya brings a new song and you call it a shit!?
Sam: Yes, we've recently rejected one song. Mitya comes and says: 'I've composed a cool song, we shoul try it on rehearsal'. We tried it this and that way, but finally rejected because it didn't fit any criteria. We have democracy within the band, so if everyone says 'shit', even Mitya won't resist.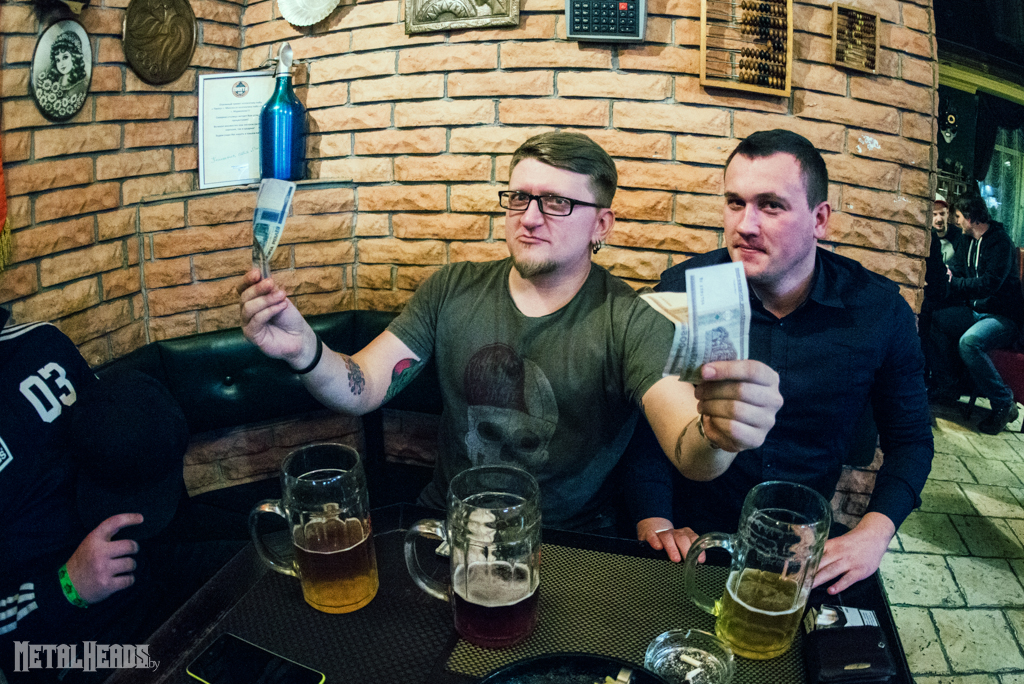 Question to Sam. When Metallica invited Roberto Trujillo in order to make him feel a part of the family they tranferred to his bank account one million dollars. And what did IVORYGOD do for you in order to make you feel a part of their family?
Sam: Ok (to Zhenya) where is my million?
Zhenya: We had a drinking week instead!
Sam: But I'm still waiting for my million!
Zhenya: As soon as I earn two, I'll transfer you one right away!
Sam: In fact guys tried to talk me into for a long time. We discussed it for the whole summer. I had doubts because I hadn't sung for long and thought whether I needed it or not. But finally I agreed. Despite the fact I'll leave Belarus for a long time in April, I still have feeling that we'll do it. But I'm waiting for my million :)


What does your today's set include? [the interview with IvoryGod was done right before their show in Minsk]
Sam: 10 powerful songs including two covers: our beloved Superjoint Ritual and Sepultura. We'll also play an brand new song.


How can you comment the act of Philip Anselmo?
Sam: He definitely acted without thinking. When one plays on such level, it's not acceptable to do things like that at least because the whole world is watching you. And the jokes of that kind may play trick on you, as it happened. If one does it drunk in a dressing room, that's one thing, but on stage in front of a crowd of fans - that's too much. But on the other hand some of Phil's colleagues started railing at him. It looked ugly especially when Phil apologized for the drunk deed. But I think that the other musicians criticized him too severely. In general the situation was more than ugly.


Now one can hear the hit of Leningrad [Ленинград] everywhere. Did you have an idea to make a metal cover?
Sam: Oops... that was unexpected... Zhenya, what do you say?
Zhenya: NO! I don't know about Leningrad, but we thought about covering Adele 'Hello', but finally rejected the idea.
Sam: and I can't sing like Adele all the same.
Zhenya: About Louboutins [Лабутены], the video is so viral and spread all over the internet that if someone makes a movement towards it, one will be despised and called douchebag. There are too many covers already, I don't think we can invent smt. new.


Case from life. Today I had a lesson of Computer Science in the 8th grade and offered to my students to surprise me. One girl without much hesitation opened Paint and drew a pentagram. Here's a question: what age suits for starting listening to heavy metal in order not to harm your psychic and the one of people around you?
Sam: I don't think that metal seriously damages psychic or does any harm. Such kind of damage is not from metal. I think that metal makes people use their brains and that is a good thing. Children from 11 to 14 actively go through 'on' processes and to my mind they can already start listening to smth. heavier. It shouldn't nesessarily be black or thrash, there are good heavy metal bands like: Iron Maiden, Dream Theater, Rage and many others, but why do I tell you that. That's the way many people started. Besides it's a familiarization with world's cultural heritage.
Zhenya: I think that rock moulds personality in a very good way, that's why it's recommended to young people.


Tomorrow there will be a presentation of the new album of TT'34. What do you think about the album the band spent 10 years on?
Sam: Oh, that's a tricky question. Personally I haven't heard it yet, but I've heard different opinions about it and they are very contradictory. Practically everyone was disappointed, since waited foor much more. But I think that it's good that TT'34 can draw attention. It's clear that after 10 years it's hard to release material that satisfies everyone. I think that the band released that kind of material they considered right for this particuliar moment with or without taking into account all contemporary tendencies.


The next question is about the project Tufli Gnu [Туфли Гну]. It seems to me that it's of a higher demand that the material from the latest album of TT'34. And what do you think?
Zhenya: I think that the vibe of ТТ during the times of 'Grubyj Pomol' [Грубый помол: Coarse Grinding] is taken by Tufli Gnu. This material is based on rap recitative and thus can't be called pure metal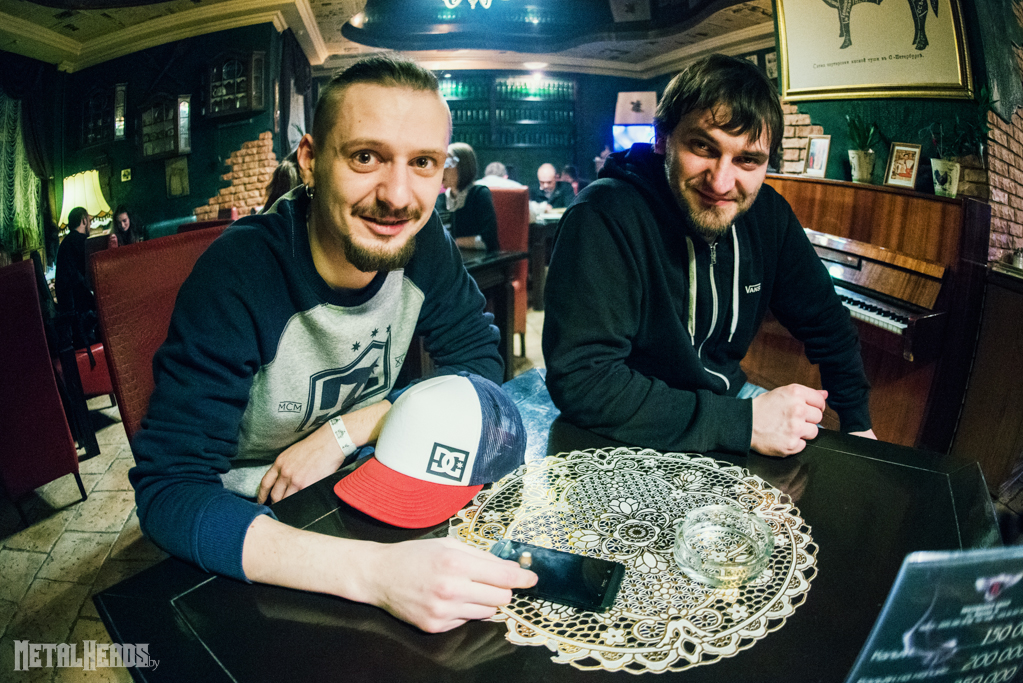 Finally let's talk about your clip. Where did you film it, how much did you pay, how big was Spielberg's fee?
Zhenya: Initially we had great plans to shoot a video with a plot, chases and shootings, but then we realized that the budget is restricted, we decided to make more simple but still beautiful thing. We wanted to make a glass cube, but realized it would be hard to do. That's why the dome wasn't glass but glued. In the end we went to MuzTorg [МузТорг] ground. We've been building the dome since 14 o'clock till midnight, then when the most of the cast warmed up, started filming... It was hard and I've cursed myself several times. Sure we would reveal the initial concept of the video more thouroughly if the dawn hadn't ruined our plans. The scene when Sam gets into the cube is shot not exactly the way we've planned. In general I realized just 70 percent of what I wanted, but taking into account its budget one can be satisfied with the result.


What's the video's budget?
Zhenya: Four billions BYR))
Sam: Adjusted for inflation of 1991.
Zhenya: Yes, smth. like this. We had some problems with editing too. Initially video must have been done by the end of the last year, but an unexpected thing happened: the editor disappeared from December 23 till January 11, So the clip was released only in January. What concerns the expenses: around 2 billions were spent on plastic film in order to cover the whole ground. It's not a blockbuster, but one can watch it. Besides it's not just a noise, if we digress from the cube there's some sense in it.
Interviewed:
Kurlyanchik
+
Hahulin