MetalHeads.by (MH): Hello guys! And let's get straight to the point – when does the official release of your album take place? According to the information we have digital release is almost there, and what about CDs?
Nokt (vocals, lyrics): Will be for sure! At least there should be one CD for cemetery.
MH and Jauhien (both): Cemetery ???
Nokt: Ten years ago I formed my first band with my very close friend. I was a young girl without any special skills or experience, but with a great desire to do metal. He was sick, and I promised him that with or without him I won't give up music. It turned out that way that my friend passed away before we even had our first rehearsal. But I once promised that I would bring him my album and I'll do it. Will we release it before the anniversary?
Jauhien (all music): What anniversary?
Nokt: Ten years since death of my first music colleague.
Jauhien: Of course it will. How much work left? To
make
a
booklet
and
print
it
.
Nokt: Maybe we'll release it on our own, but for now we upload the digital copy.
MH: My favorite question – art component of the album: cover, brochure, logo. Who worked on their creation? By the way, my first reaction when I saw the character on the cover was: "What a terrific make-up Nokt has!", But, as it turned out, I was wrong!
Nokt: The cover and booklet were made Jay Flokker, photographer from Minsk. It's my own grandmother Wanda Vyacheslavovna wearing wrath and holding a scythe. The idea of the photo shoot with her I've had for a long time: she's an interesting type and has very long silver hair. Several years ago she gave me a promise that one day she'll take part in a photo shoot, but with indefinite terms. And this time has come. By the way, as a model she did great. We had problems with the light, we had to wait for very long time until the position of the sun was right, it resulted in more than 4 hours. For example I don't have enough patience to stand in the same position and wait, while it was no problem for her at all (at 88 years!) She was just a little bit worried: "Hopefully you don't make a witch out of me?" But it's up to everyone which image one sees. There are many inherent meanings and it's impossible to say this one is right and all the others are farfetched. One of the reactions on the cover was: "Looks like Belarusian death!" While my original associations were with the Heather Woman mentioned in "Boat of Despair" by Vladimir Karatkevich: "... Once I saw a woman in the heather fields. The one that screams and scares people, and afterwards someone dies. - Everyone says that you speak with the devil. - It's not scary after some women... So, she had loose hair and she cried so that people's hearts trembled. Gervasy smiled. - And you? - Asked Bona. Vylivaha gently bent. - And I... felt sorry for her, mother. She, apparently, had been a beautiful woman. But wondered for the whole life in heather, scaring everyone with the terrible screams. And she didn't know what the meadows behind the Dnieper look like, how warm hay is and how wine intoxicates, as you can't tell whether it's a whisper or the rustle of willow in the wind. She didn't know how pink hawthorn blooms near my house... I felt sorry for her. I feel sorry for everyone – that's my heart. "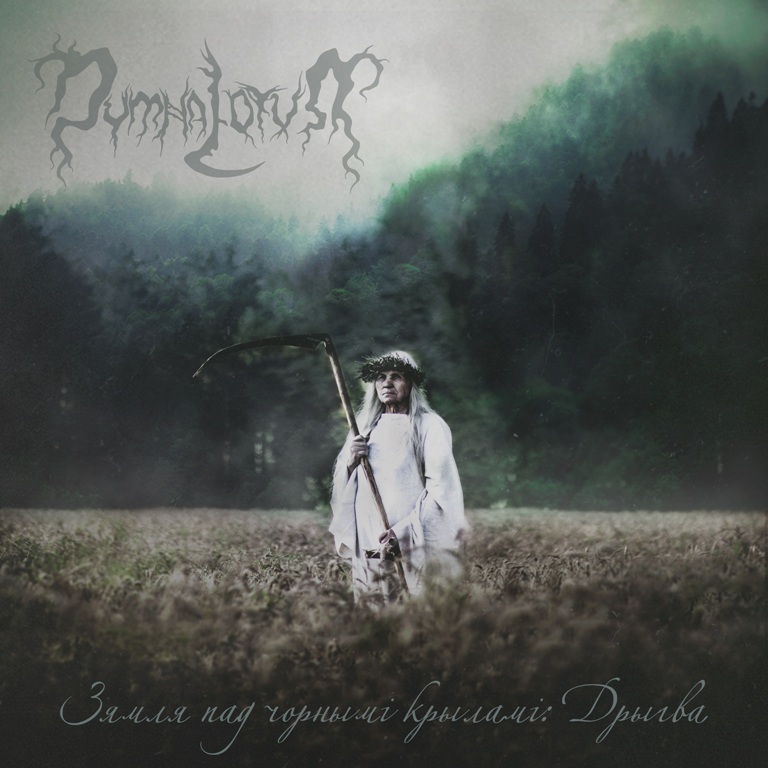 Later we've added the scythe just because we had one. It's the property of my grandmother. It's real. We thought at first to shoot with a sickle, but scythe won. Aimagine how we loaded it into the car, a small two-doors Fiat where it didn't fit – that was something! I've just recalled an anecdote: "Why do decapitated bikers bikers drive by? – Put the scythe right!"
The young Minsk artist Angelina Vaschenko worked on logo and emblem. She's not that famous yet. In fact we've accidentally saw her works on internet and liked the detailed drawing she does. We
offered
to
work
with
us
and
she
agreed
.
MH: Even after listening to the teaser it's clear that "Zyamlya..." ["the Land"] is a concept album, am I right?
Nokt: I've had the concept of the album in my mind for a long time. I didn't know which project and the musical material it will be brought to life by, but the core idea I had. I wanted to convey my vision of Belarus, its beauty and plight.
This land and people inhabiting it are at the same time so old and so young (by the way, one can see a mixture of images of a young lady and an old woman on the cover). How many wars passed through our land, how many people died, how many bones are buried in this land. Strict beauty of forests and swamps; wastelands overgrown with wormwood - all this creates a gloomy atmosphere in one's head soaked with sadness. By the way, I love wormwood! Very symbolic plant - bitterness, Chernobyl, wasteland, driving out evil, medicine, amulet and ... absinthe.

Jauhien: Purely technically my inspiration lays in sound. I'm plugging the guitar, configure some interesting sound and the inspiration comes. When I make another sound – it inspires me for smth. else. Same with guitar harmonies. Experiments are encouraging.
Motives rarely occur in my head when walking down the street. The main thing is the calm atmosphere. I record music at home because it's very comfortable. No need to go to the studio, pay money for it, if one can sit quietly in the comfort at home, take a coffee break, record music and if smth. goes wrong – redo it.
I've never worked in the studio, but when I have to (and I will have to) - the first times will be difficult for me (in terms of comfort). There were interesting moments during recording: recorded some material... something is missing... we need to record smth. else.
I just played the guitar, in case I made smth. interesting I added it into the track despite it hadn't been planned.
Initially I had the idea to compose smth. I hadn't done yet.
I didn't think whether the album will be heavy or light.
I didn't even imagine what the vocals would be until I met Katya.
I just composed, composed and composed.
As a result, some of the tracks were left in the archive since they didn't fit the desired atmosphere.
Perhaps, they will have a second life, perhaps not.
I guess, Katya planned more extreme.
I liked her clean vocals.
And here we go: I wanted more clean vocals, there and there, and then a bit over there.
Nokt: I've recorded my clean vocals for the first time.
I can't stand my usual voice!
But music needed it, and it was easier to record myself than looking for someone and explain what to do.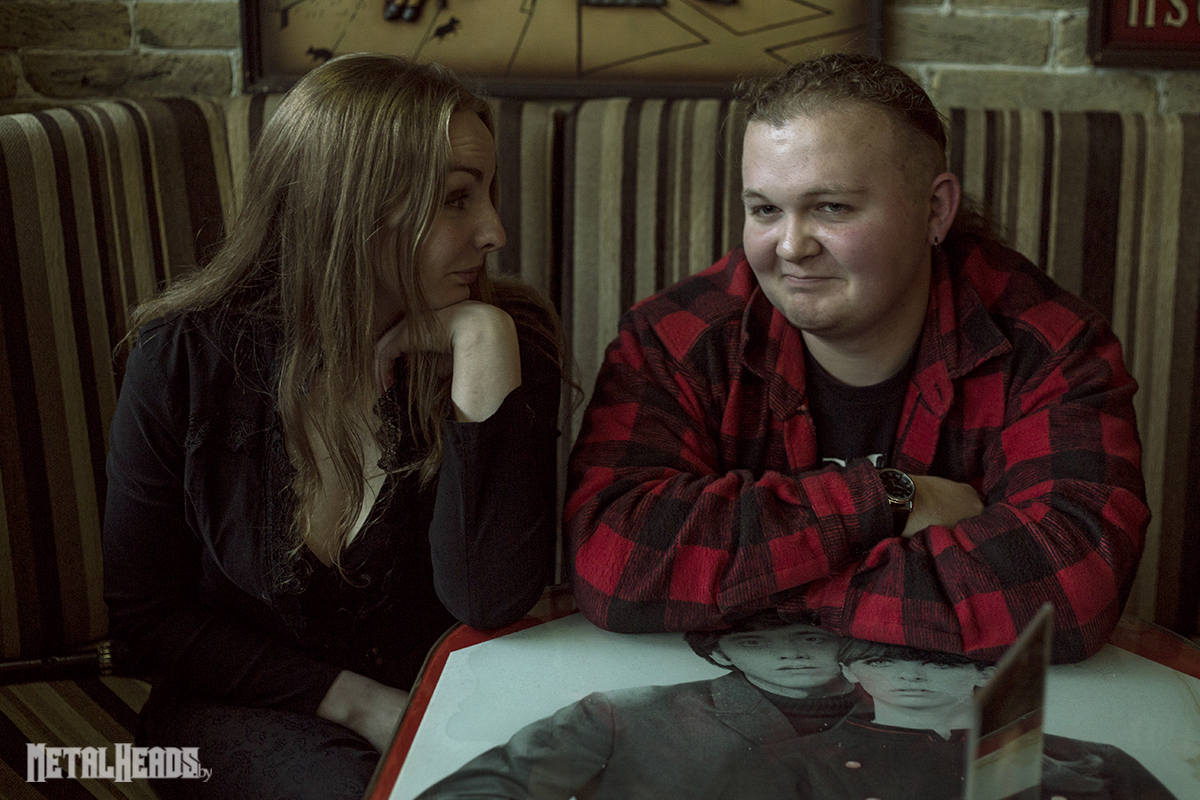 MH: As far as I understand, the main instrumental part was recorded at home, and what about the vocals? Where did you record it? - Studio? House? Outer space?
Nokt: We recorded vocals in the studio "Kovcheg". In general I got used to it and it's very convenient. For me the sound engineer is very important. I feel very comfortable with Andrey and don't feel shy recording whether weeping or laughter or even (OMG!) clean vocals. This is not some stranger who will freak out having heard my screams. Moreover, there are constantly many crows flying above the smoking area at "Kovcheg" and we've called them "studio crows". Their cawing creates the right atmosphere and mood! By the way, something in the texts was changed before or even on the recording day. One of them at all was completely written while I was going into the studio in the morning. I usually write them for a very long time – rewrite them a lot. But sometimes I can work fast. It turns out that I can.
Jauhien
:
Deadline method
.

Nokt: Well, yes. Although it's not only about the deadline. In the end a lot of personal things have been added to the initial concept of the album. Maybe if we had recorded this album earlier, it would be kind of lifeless. But before recording life really went downhill. Shit happens. Maybe it will seem posturing, but if I hadn't had a few days booked in the studio for recording vocals, probably I wouldn't chat here with you. I just threw away a bunch of finished or nearly finished texts and composed them from scratch. So everything included in the album is real. There was a feeling that I don't exist. The reality was lost. I even had hallucinations. "What happened?" - "It all happened." I don't want to talk about the situation in details, but ... I knew that everything I had was the album that must be finished. Since the text part became a story, I wanted to hear it as soon as possible. We tried very hard not to surrender to perfectionism.
Jauhien
: The
best
is
the
enemy
of
good.
Nokt: Although, of course, there was a frequent wish to have something fundamentally changed. I used to come and say (usually about my vocals): "Zhenya, it's bad!"
Jauhien: Hysterical girl.
Nokt: Well, yes, I am. Zhenya says: "Calm down! It's not that bad. "Well, he's the chef - I have to listen to him. Although, we've recorded some things after the whole material has been mixed. For example I didn't like the sound of sampled flute in intro, so I recorded the live recorder. We've recorded one part for "Verasy na Kostkah" ["Heather on Bones"] as well, added a couple of screams. This is already a common practice - yelling is never too much! We've once added smth. to "Samotny" ["The Grievous"] too Append. There was an amusing incident. During recording the flute I got an idea that in the end of one of the tracks there necessarily should be a breathing sound, you know, like you're breathless. But according to the plot it had to be male! I called our guitar player: "Come to the studio!" - "When?" - "Now! You will breathe into the microphone." So he arrived, ran around the studio (for more accurate breathlessness), breathed into the microphone for a few seconds - done!
MH: "Our guitar player?" It means the project of two permanent members has more people involved?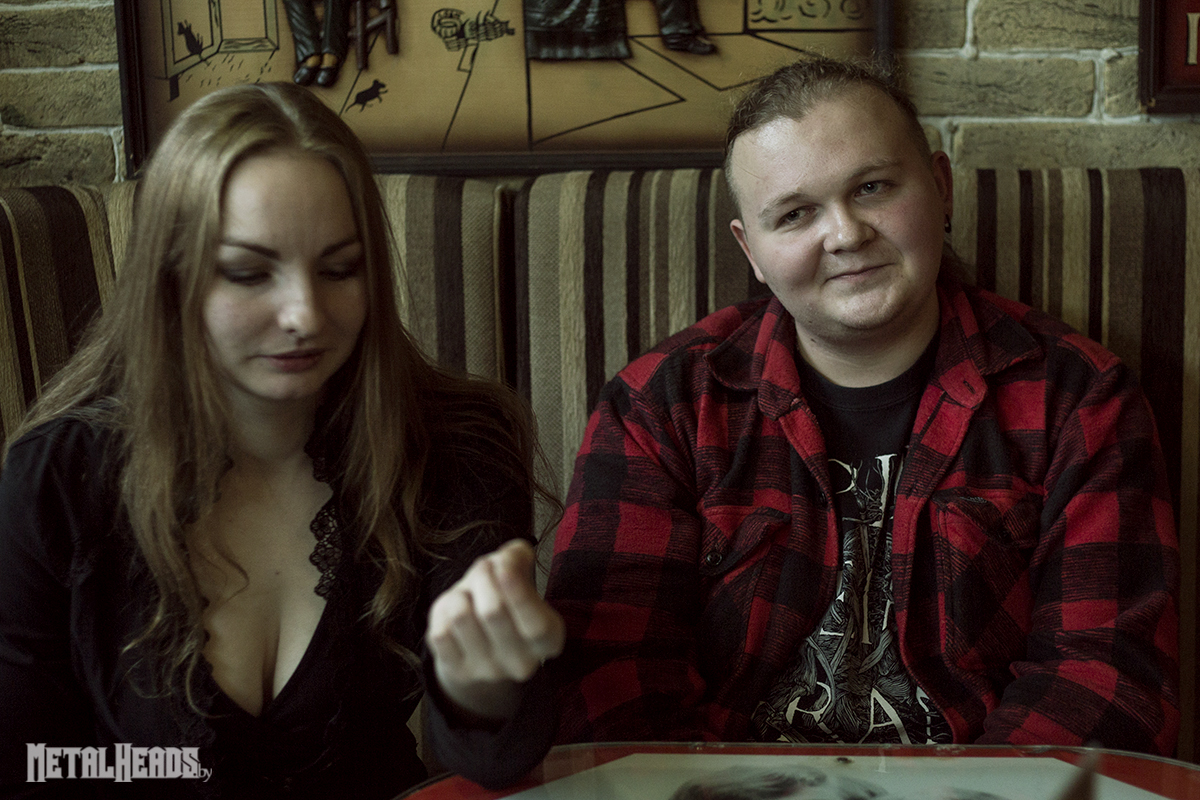 Nokt: Yes. We've got more or less stable lineup. Our "junior scientific officer" can already be introduced, we're sure about him. This is our rhythm guitarist Nikita Sedin. I've already been acquainted with him. When we started looking for a guitarist, I thought of inviting him but was embarrassed by his lack of experience and at the same time I had no idea how good he played. One more thing: Nikita likes classic DSBM more – we didn't know whether he wanted to play with us on a permanent basis. So we placed an ad that we were looking for a guitarist. There was enough feedback from musicians who had previously played-were recorded-acted. But it didn't work out: they were whether not interested enough, or we couldn't come to agreement about rehearsals, or some other reasons. In the end we invited Nikita to the rehearsal just try playing with him, who knows? He came on time, learned all that was had asked to, played it well, the band liked him. What else do we need? He said that he was interested. So were we.
Jauhien: We took his rehearsal virginity! He never did it before in a band.
Nokt: And the rest of the band's members we'll introduce some other time. For example on our debut concert - December 4. We'll warm up PSYCHONAUT 4 and VANHELGA in Minsk Brugge club.
MH: And will organize a pleasant musical evening of three fresh albums of three band of different freshness?
Nokt
,

Jauhen

:
That
'
s
right
!
Interviewed:
Nat Nazgul
Photos:
Jay Flokker -
promo and cover (provided by the band);
Nat Nazgul
.
Сохранить
Сохранить
Сохранить