MH: To my mind the poster saying "Minsk plays in Minsk" would be just awesome. How do you like the idea?
CB: The idea of playing in Minsk is constantly on our minds. It is a huge goal for us to make it happen eventually. To be able to perform there would be a surreal experience for us. I think since the beginning of the band, we have envisioned ourselves on a path that would eventually, when the time was right, allow us the opportunity to play in Minsk. We have been fortunate to meet and interact with a handful of wonderful people from Minsk, which has been a hugely enriching experience. Our hope is that we can walk the streets of that historic city soon.
MH: If you would take us to have a walk in the Minsk of yours? What would we see? Buildings, inhabitants, view if one looks into the windows?
CB: In my hometown of Peoria, Illinois, you would see a small city in the middle of america that made its name from being a headquarters at one time for much of the whiskey production in the country, but later shifted to a place known as where the Caterpillar company started producing heavy equipment like tractors and other construction and earth moving equipment. You would see a town that has experienced a fair amount of economic depression, and a town with a marked division between the rich and poor.
It is situated on the Illinois River, with some beautiful hills and woodlands surrounding the city. Native Americans were the original settlers here, and you can understand why they would have chosen this area, with its ample wildlife, fertile soil, and natural beauty. Much of my own personal reasons for enjoying this area are because of the ability to easily drive outside of town and enjoy nature. There are some wonderful places to hike and camp in the vicinity. It is a city with a rich history, that was known at one time in the 1800's as a wild city, where people would travel from Chicago to engage in questionable activities.
It is a city with its own unique neighborhoods, some of which have a distinct character all their own. Peoria has over the years maintained a small but dedicated and talented group of underground musicians and bands, and Minsk would not sound like we do if our roots were not in this place. Peoria has many unique architectural treasures, some of which have gone into disrepair. It suffers the fate of many cities in the US that at one time were vibrant manufacturing centers, but became economically depressed with the reduction of dependable employment. You will find many dedicated hard-working people here, but many are unfortunately not very ambitious in their desires to absorb art and music that isn't mainstream. To be in a band from here, the only way to form your own path is to get on the road and make yourself known outside of just this one place.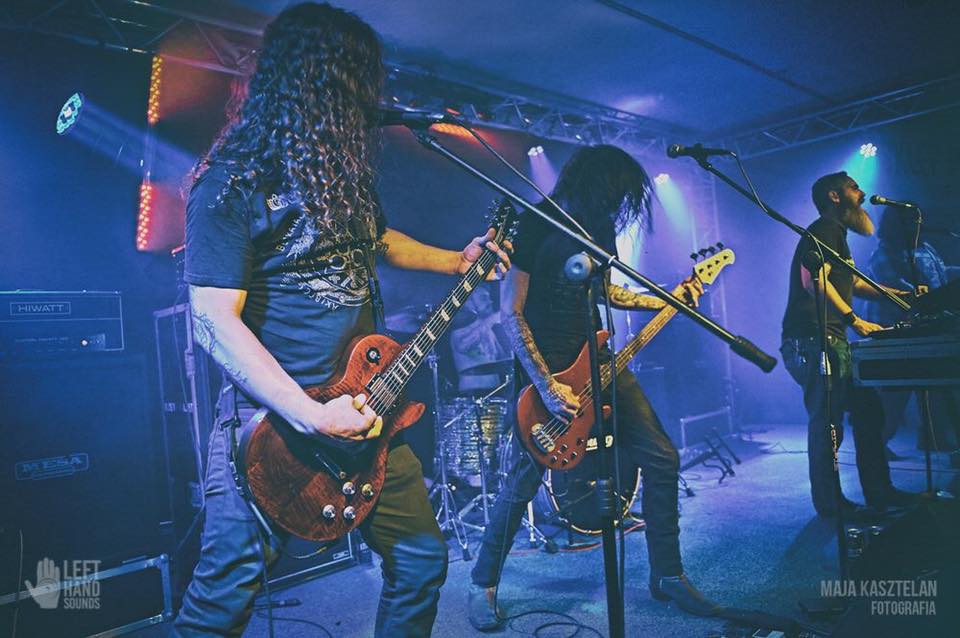 MH: Does your interest towards Belarus go beyond the bounds of the formal one like interest in the music of some bands from Belarus or cooperation with some musicians?
CB: The initial interest toward Belarus originated from a young age for myself when I began playing violin and piano and started to learn about and find a love for classical music, art and literature from Eastern Europe and Russia. The tonal structure of music from that part of the globe stirred something within myself that I can't explain, but the emotional response that I felt was a thing that I knew I must pursue. Growing up in the US in the 80's meant that a majority of the rich deep history of places within the USSR was kept from us. At least to kids growing up in the middle of the US it felt that way. With the perceived conflict between the USSR and US, and the propaganda on both sides attempting to dehumanize the populations of either side, it became hard to discover the myriad beauty of that area which had historically been the crossroads between Asia and Europe.
As a young person from middle America, trying to discover, uncover, and soak in as much art and culture as possible seemed like a life or death pursuit. As we grew into our later 20's and began to form some of the foundational ideas for what would become Minsk the band, we decided to tap into our interest in Minsk the city, and the area surrounding it, and decide to create this musical project sharing the name with what seemed in our minds to be a mystical city. The archetype of the phoenix rising from the ashes, and the way that the city of Minsk has risen again and again after being burned to the ground, was an inspiration to us in the sense that we must figuratively be burned to the ground to truly grow as individuals. To die and become. We have within the last several years been able to correspond with musicians from Belarus, and it has been a special experience for us to do so. We hope that we can meet even more creative individuals from there soon.
MH: About cooperation, you've recently took part in recording Nebulae Come Sweet album "It is not the night that covers you". Your impressions? (we want ALL the details like how it started, were you given freedom to bring your own interpretation of the album's concept, how did you work on the material, etc)
CB: It was an absolute pleasure to be able to participate and contribute to the Nebulae Come Sweet album, and especially to such a wonderfully ambitious work of art. Igor Kovalyov had sent me a message asking if I would be interested in participating, and though it caught me at a busy time with Minsk shows, (I'm not the best at keeping up with Facebook), when I finally expressed my interest, I was lucky enough that the band still had room for me to contribute. I was honored and excited to be able to correspond directly with a band from Minsk. Igor sent me a rough mix of the song, along with the lyrics and a general idea of how they wanted the vocals to fit within the song. Igor also gave me the bigger picture of the concepts behind the whole album which immediately made me realize how much thought and effort they had put into it.
I found their vision to be very inspiring and discovered that we shared a love of T.S. Eliot, one of my absolute favorite poets. Igor gave a few examples of pieces from Minsk songs that might fit within the dynamics of the song, but they gave me as much freedom as I wanted in terms of how the vocals would be delivered. Our drummer, Kevin, is a great recording engineer, and so with his help, we recorded the vocals at our rehearsal space. We both had a great time doing it, and Kevin was awesome in encouraging the ideas of recording the multiple layers of voice.
Once I heard the whole album in it's entirety I was awe-struck. They really created something truly unique and special, with so many dynamic shifts, beautiful instrumentation, and an attention to detail that can be a rarity in heavy music. The core musicians of Nebulae Come Sweet created this massive album, and then somehow made it even more grand with the additions of the supporting cast of contributors. The string parts are some of my favorite moments on the album. I regard the opportunity to have participated in this album with deep reverence, and I hope that it can lead to more collaborations in the future.
MH: It took 6 years before your latest album. What have you been up to during this time? Did this extended (comparing to your previous activity) break influence the latest material?
CB: In 2010, after being quite busy the previous year, it became evident that we needed to take time to breathe, and make a few changes to the way the band operated. We knew that these changes were imperative for the band to survive. We decided to take as much time as we needed to insure that we could operate on the creative level that we felt was necessary. Though on the outside it may have appeared that the band was inactive, what actually was happening was a slow buildup toward the making of "The Crash & The Draw".
No one was pressuring us to finish an album within any sort of time constraint, so we decided to take as much time as we needed to make an album we were happy with. Some of us moved to different cities, which had an effect on the band in terms of soaking in the influences of new locations, and also in the pragmatic sense of us having to be more strategic about rehearsals and recording. This break no doubt did influence the album that came about as a result.
When something is such an integral part of our lives like this band is, the hiatus made us realize how fortunate we were to have such an outlet as this. I personally feel a need to create within the headspace of Minsk on a consistent basis in order to stay sane, and so when we took a period of time where we weren't playing as much, it made me realize how crucial it truly is. I think it made us appreciate the time and care needed to build a Minsk song from its raw form to its finished state. The creation of a song from a formless idea is a form of alchemy to us, and though that idea had always been important to us, I know we began to approach that process with much more intention. With each album, we hope to transmute whatever influences and events, no matter how heartbreaking or joyous, are happening in our lives during that time.
MH: Your plans for now?
CB: As of now, we are concentrating on writing a large chunk of new music, some of which will end up on a new album, and some will appear on several other special projects that are in the works. This is always an exciting time for us, when the creative process is at its most basic level, and we begin to see ideas start to take form. We plan to embark on a tour in the Western US to coincide with the Psycho Las Vegas festival in August. That festival has a lineup that is just amazing, so we are very happy to get to be a part of it. The overarching goal for us right now though is to dive into the magical process of creation.
MH: On your official website in the column "about the band" one finds a modest statement: MINSK has been cultivating sonic exploration and alchemical outpourings since 2002. Does it stand for a constant search of your own sound as the only important thing to tell about the band?
CB: Yes, I would say that is a great summation of what the statement hopes to convey. A wise woman once told me that it is always good to keep a sense of mystery present within yourself. We without question are constantly searching for what our sound hopes to be. We as the orchestrators of the music are merely conduits for the music to speak through. We would never want to try to spell out any specific feeling or idea to the listeners. Ultimately, the music will effect each individual in unique ways. Our invitation to the listener is to embark on this journey with us, and together we can dive deeper into ourselves and the world around us.
MH: Do you search your sound within the genre or you just convert all your experience into the habitual form of doom metal?
CB: We get comparisons to a varying list of genre-specific descriptions but none of them seem to feel like a appropriate way to describe our music. Our absolute goal is convert all of our pleasures, pains, triumphs and tragedies into sound, and what it ends up sounding like is of little importance in comparison to our desire to make sure that it is true, real, and representative of our place in this universe.
MH: The band has undergone many line-up changes during its existence. Did it affect the music of Minsk or are you solely in charge of the whole creation process?
CB: Each person who has contributed to Minsk has had an effect of the sound. There is no question about that. We embrace the idea that we operate as a collective whole, as an amalgamation of the contributions of each individual. With that said, Tim and I are the founders of the band, and we have gone to great lengths to make sure that we stay true to our original concept for the band. We wanted to put forth the idea of "beautiful ugliness" in our music from the very beginning. To find the beauty in the profane, and the ugliness in the sacred. We have never invited anyone into the fold who didn't at least have a basic understanding of the sounds we hope to conjure. Hopefully, paying attention to our original desires to create have helped to maintain a certain cohesiveness despite having many contributors.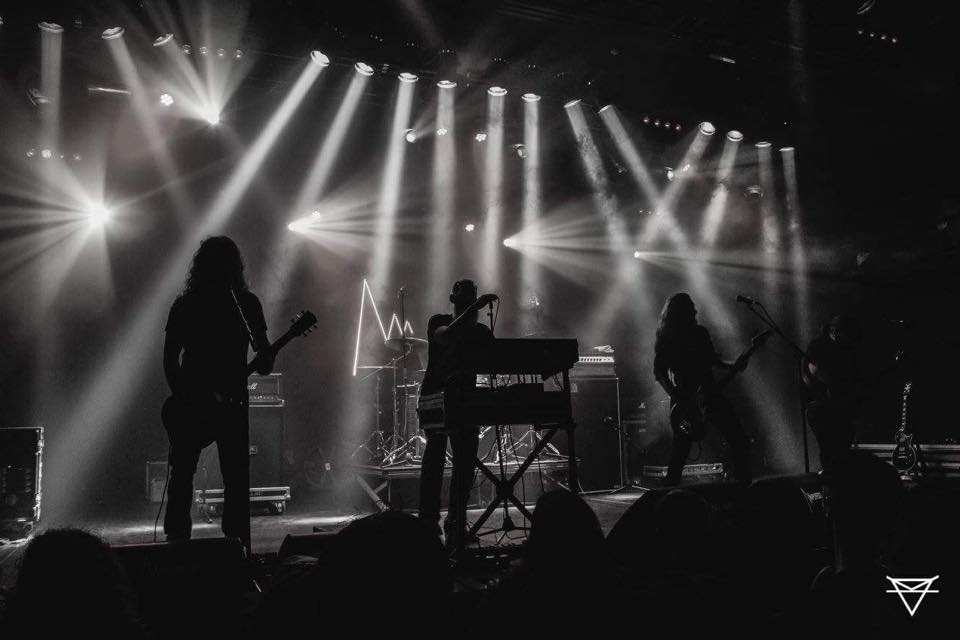 MH: How do you create the proper atmosphere on your live shows?
CB: This can be a challenge for us, as it takes time to get the proper sound for a band like us who has multiple singers, and is sometimes quiet, and oftentimes bombastically loud. I would say the search for the proper atmosphere is ongoing. We pay attention to the light frequencies we use, and the ways certain shades of light can affect both us and the audience. We have experimented with adding visual elements to the live performances and though we have enjoyed doing so, it isn't something that we depend on. So much of the atmosphere is dependent on the capabilities of the venue as well. We aren't a large enough band that we can always depend on the sound and lighting being exactly what we want, so we try to make sure that the music alone provides the desired atmosphere. Our goal is to maintain a sense of both bombast and intimacy at our shows. Volume plays a huge role of course, but also the many guitar and keyboard effects we use, along with different vocal deliveries. As long as we exist, this quest for the most effective live shows will remain a never ending search. After all, the process is what it is all about.
MH: What about shooting a video in Minsk? What would it look like?
CB: Shooting a video in the city of Minsk would be an amazing event for us. It would be awesome to include architecture from the city, but also to have the people who live there included in whatever narrative was present in the video would be very important to us. One of the most important goals for us has always been to connect with other human beings, regardless of whatever region of the world they live in. To transcend the restrictions that governments try to put on us, and to get to know people of all parts of this planet in as intimate a way as possible; these things drive us to keep making music. If such a wonderful opportunity were to ever present itself to us, we would want to let someone who had a vision for such a thing follow her or his ideas, and hopefully our music could accompany their vision in a meaningful way.
MH: What Belarusian bands would you like to share the stage with?
CB: We definitely want to share the stage with Nebulae Come Sweet. It would be awesome to play multiple shows with them. I recently learned of Difleger; quite a brilliant offering of sound. With this question, I'm realizing that I need to become more familiar with bands from Belarus. We would be honored to get the chance to share the stage with as many bands from your country as we possibly can.
Interviewed:
Gella Inspired
Photos are provided by the
band
.
Сохранить
Сохранить
Сохранить
Сохранить