The fact that Belarusian heavy stage is more than alive is proved once again bythe recent EP 'Chasing D.' release of the young and promising band Ash & Skies. Skilful combination of drive and melodic sound, vocals in the best post-hardcore traditions and the high-quality production set up a high standard both for the band and the whole native music industry. We decided to get to know Ash & Skies better in order to provide you with such an opportunity as well.
Hello guys! Let us know where such gifted folks like you are from? Probably you have a couple of weepy stories about how your vocation found you in early years and Vanya (Ваня) for example instead of pronouncing his first words started screaming, Benny discovered the magic of rattles and Franzisk (Франциск), Kostya (Костя) and Artyom (Артём) pulled at the relatives' soul chords like masters until they found their guitars? Or was everything more down-to-earth? How did you find yourselves and your style?
Hi MH!
Just like any other story ours starts with a Song. The one follows the music path when one's imbued with it. For someone it can be a single song heard on the radio, TV or in a film that turned one's world upside down. Then you see the way rock stars live and you want to live that way too. To know what it feels like when the audience sings along with you and shouts louder and louder. When you can be sure you are heard.
For
Vanya
such song was
Creedence Clearwater Revival
-
Have You Ever Seen The Rain
.
All of us found our own way to music and miraculously ended up together. Initially our band consisted of Franzisk and Vanya and was an internet-project. But anyway rock'n'roll is drive, shows and direct contact with the audience, so we decided to try that all in a full band cast. The main thing is to understand and to believe that everything in this world is possible.
So in the beginning of 2015 we announced ourselves with the single 'My Only Home' that was given a warm welcome. It inspired us and we started working on our debut album.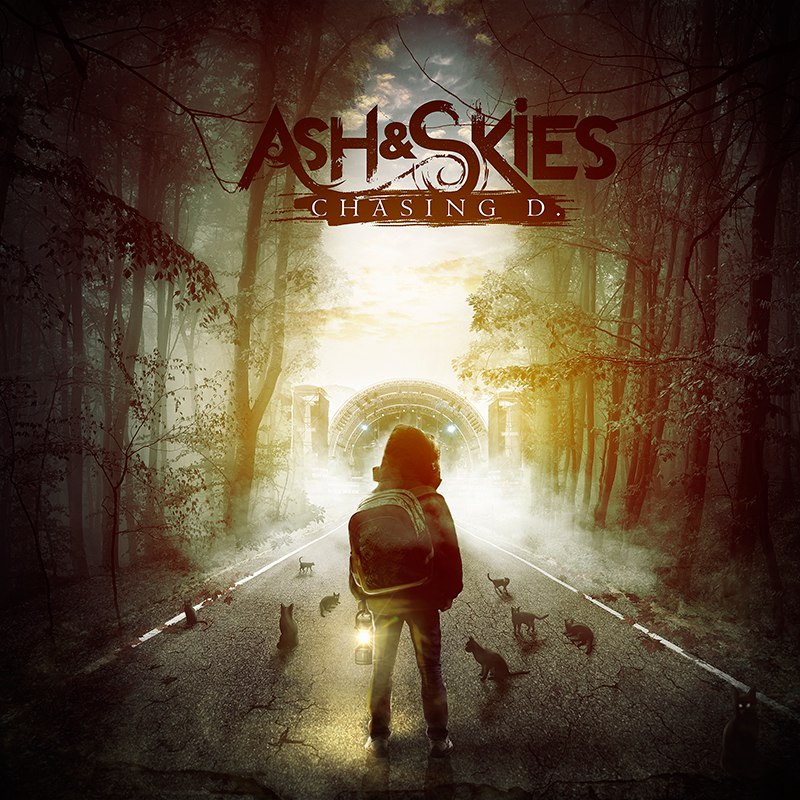 Your new
EP '
Chasing
D' has been carefully packed and uploaded by you to the free access in the internet without any alternative links for buying it. Why so generous? Don't you think the hard work must be rewarded economically as well?
First of all we want to get across ourselves, our work and the best part of us to people, and nowadays buying music isn't affordable to everyone. Even Miley Cyrus uploaded the latest album for free for those who can't buy it. So we share it with everyone the first line. For the people ready to support us buying the album and the foreign audience used to paying for music we have prepared our release for sale, but it will be a bit later.
'Chasing D.' D – Dream? Dolphin? Dust? Oh this intriguing uncertainty. Won't you unveil the mystery?
It's not a mystery at all since everyone will have ones own word there. Probably 'dream', 'destiny' or 'Daniel Radcliffe' if you are a fan of the boy that survived. Everyone has one's own aim in this life, just like our character. His thoughts on the matter can be heard in the chorus of the song.
The value of the piece of art is that it can be interpreted differently and you can find smth. close and clear just for yourself.
A big ambitiousness can be felt in the album's lyrics and music. Have you already prepared a plan of conquering large stages?
Of course! We have enough ambitions for each person that attends our show. We should leave such a trace behind that makes the next generations open their eyes and say looking at us: 'damn, I want to live this way too!' And one must get rid of such words as: 'may be', 'probably', 'most likely'.
Tell us more about your album. Like is there any concept or each track has its own life? How long did it take to prepare the material? Did you have any disagreements having 'several chefs in the kitchen'?
The concept is based on the history of the character and his formation. We tried to depict it both in tracks (each contains the description of the following historical stage), and the album's cover: while the young character approaches his future – the huge floodlit stage, there are many problems and obstacles on his way – black cats. The first track is the reference to his father and then he escapes from home and follows his dream through joy and disappointment.
We worked on the material for about half a year. We didn't want to hurry and lose the quality. The aim was to prepare a debut release that from the start sets up the definite standard both for the audience and us.
Of course we had quarrels, but like a family, the band always comes to the best way out for everyone.
I can't skip the patriotic track 'My Only Home'. How do you think could it be a new national anthem?
It could be indeed! If the anthem could contain the word 'f*ck'. This track set up the whole concept of our EP. The history starts there and we first mentioned things that are close to us like the affection for home and pine for dear places that comes when we have to leave them for a long time.
After the release we got some new ideas, that's why we included into the album slightly changed classic-rock version.
And are you interested in Belarusian stage? Are there any native musicians in the list of people who influenced you and your music?
Our stage has many bands doing interesting things and just acquaintances from this sphere we communicate with. So one way or another all the musicians share certain experience they acquired, ideas for promotion and implicitly affect one another.
If we push 'play' button right now, what will we hear in the earphones of each of you?
Franzisk
will arrange it this way that he would allegedly listen to
Led Zeppellin
-
Immigrant Song.
Benny
talks to whales, so it will be
Gojira
-
Ocean Planet.
Artyom
will be looking down in a modest silence listening to
Heart of a Coward
-
Skeletal II: Arise
.
Kostya
stands out listening to
Foals
-
What Went Down
.
Well, whatever everyone likes,
Vanya
definitely listens to
Hannah Montana
.
Do you have any rituals or traditions that the band strictly follows before playing a show?
We have a tradition of pushing and bothering each other while Benny shouts calling us an unorganized crowd of bold apes. And besides that, of course, we get ready for the show with the maximum energy sharing.
The recent cover on Adele 'Hello' – is it a tribute of respect to the singer, wish to be seen or smth. else? Don't you afraid of comparisons both to the original song and to the numerous covers that may follow?
It all started when Kostya sent to our chat her new track released after three years' break, just for us to listen because we normally share the music we listen to. We liked the song and decided to make a cover because the album had already been done and just a few technical questions left, so we had nothing to do. By the way our vocalist likes the works of that girl very much.
Now it's very hard to be noticed with this cover on Youtube because hundreds of musicians with popular channels released their versions right away and got hundreds thousands views. That's why it was more likely a tribute of respect and a curious experiment of covering a pop-track. We haven't had such an experience before.
People will always compare the band with smth. else and they have all rights to do that. It's incredibly pleasant when someone likes the things we do. But there will always be sofa-critics as well. Even the greatest bands were once or even now are considered by someone to be ungifted, but it doesn't mean they actually are. If one pays too much attention to such things he or she can spend the half of one's life trying to prove smth. That's why we are working for people that support us and grow with us. At the moment the cover has more than 30 000 views and we are satisfied with the result, but by no means are going to stop.
Which song would you recommend to start with a person unfamiliar with your music?
Mrs.Sadness – the final track in the album. It contains one of our favourite verses depicted on the cover:
"My life's full of black cats"
What about 'mini-tour' in order to support your 'mini-album'?
At the moment we are arranging a tour in Russia to support the release and hope that it will be far from 'mini'.
In summer we have some plans about Belarus.
Thanks a lot for your answers. We wish you fire in your hearts, full-houses on your shows, light guitars and a heavy sound!
Thank you too for the questions! See you on the shows!
More information about the band can be found in the official group
VKontakte
or on
Facebook
.
Interviewed:
Gella Inspired
Photos are provided by the band.